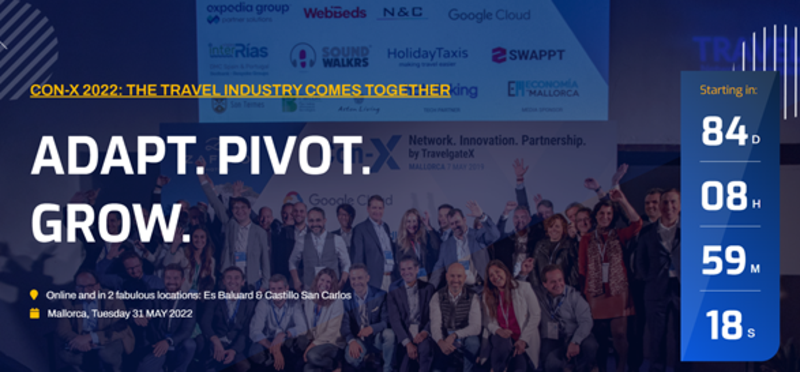 Travolution confirmed as sponsor of TravelgateX Con-X conference in Palma
The second Travolution Digital Retreat VIP overseas networking trip will take place alongside Con-X
The second TravelgateX Con-X conference will take place in Majorca in May as the travel technology firm celebrates its tenth birthday.
Travolution is delighted to be partnering with TravelgateX for the event which invitees of our second overseas Digital Retreat will attend as part of a three-day VIP networking trip.
Con-X will see hundreds of senior travel sector professionals travel to the popular Balearic island for a day of sessions and one-to-one meetings before a gala dinner.
Themed 'Adapt. Pivot. Grow', the in-person conference will take place at the Es Baluard contemporary art museum in Palma on May 31. The gala dinner will be hosted at the nearby Castillo San Carlos.
Speakers confirmed for Con-X include founder of Silicon Valley innovation consultancy Agents of Innovation Bill O'Connor and Toni Nadal, the uncle and former coach of Spanish tennis star Rafael, who founded the Rafa Nadal Academy.
Pedro Camara, chief executive of TravelgateX, said: "Con-X in Mallorca is a perfect time to meet our customers, exchange ideas, talk about new business and try to grow together.
"We also want to talk about the rebound of the century, how we have changed and the possibilities that are opening up for our tourism sector.
"It will be a special day, we are looking forward to welcoming our guests. We also hope you can share with us our celebration of 10 years of TravelgateX.
"We will focus on three concepts, adapt, pivot and grow, surely with experiences from our fabulous speakers.
"We are delighted to have Bill O'Connor from Agents of Innovation, from San Francisco and of course with the presence of such an inspiring person as Toni Nadal, former coach of Rafa Nadal, who will talk about all that we still have to train and grow in our businesses.
"As in the last edition, we will have international speakers from the B2B travel sector and participants from more than 45 countries. We look forward to seeing you all."
Travolution has been confirmed as a partner and silver sponsor Con-X and will host a pre-event drinks reception for all delegates on the evening before on May 30.
We will also be flying a delegation of 20 senior buyers and suppliers from the travel and technology sectors to attend Con-X and an exclusive programme of events.
This will include a visit to the Palma headquarters of Hotelbeds where members of the bedbank's senior team will address the group along with representatives of the burgeoning local travel tech eco-system.
Travolution's first Digital Retreat took place in Seville last year in collaboration with the Tourism Innovation Summit which was being held for the second consecutive year.
Lee Hayhurst, Travolution executive editor, said: "Our first Digital Retreat underlined how important and valuable it is for industry professionals to get together to discuss business, particularly after two years during the pandemic when networking had to take place online.
"This is especially true when it comes to technology because the old adage that people buy from people is no less true in this sector and so it's important that people can send quality time together really getting to know each other's strategies and aspirations.
"I'm delighted we've been able to partner with TravelgateX's Con-X event on the Retreat. Having attended the first one I can personally vouch for the quality of the speakers and the delegates.
"With COVID having prevented any further events taking place this has been a long time coming, so I'm delighted that we'll be in Palma this May to support the TravelgateX team."