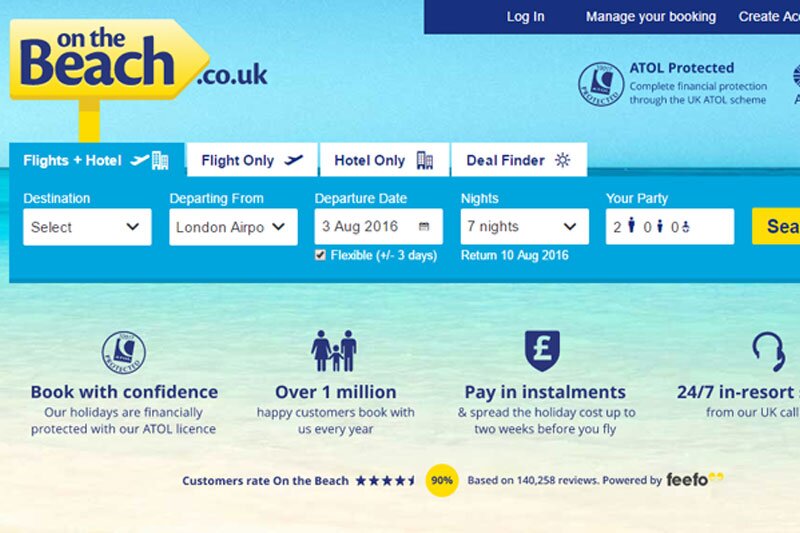 Watchdog rules On The Beach holiday savings claim was misleading
ASA bans ad claiming that 92% of On the Beach customers made holiday savings Continue reading →
An advert in the January peak claiming 92% of On the Beach customers made holiday savings has been banned.
The advertising watchdog acted after the chair of the all party Parliamentary group on statistics challenged whether the claim was misleading and could be substantiated.
The OTA said the information was gathered between July 14, 2016 and August 30, 2017 and that the survey was carried out over questionnaires provided to their customers.
The company said survey had been sent to more than 300,000 customers and it received 37,439 responses.
The questionnaire asked consumers what type of holiday they had booked, how much money they had saved and their age.
But the Advertising Standards Authority ruled today that the advert should not appear again and On the Beach was ordered to ensure it held "adequate evidence" to substantiate saving claims.
The claim in the advert was misleading because the percentage of the total number of consumers surveyed who had saved money was likely to be much lower than the 92% stated, the ASA said.
The survey only asked two generic questions.
"We noted that consumers were not asked to give any specific details about the holiday they had booked and whether the money they had saved was based on an identical holiday from a different company or a similar type of holiday," the ASA said while upholding the compliant.
"We considered that the methodology used to conduct the survey was not robust as it did not require consumers to provide any detail of the saving they made and the survey was insufficiently detailed to substantiate a savings claim.
"We therefore concluded that the ad was misleading and in breach of the [advertising] code."
The ASA also upheld a complaint against a Eurostar advert saying only two tickets were available between London and Paris at £98 when tickets for the same trip were subsequently included in a sale.
"We told Eurostar International to ensure their future ads did not mislead consumers by, for example, urging them to act quickly to buy tickets because prices were likely to rise where they knew or could reasonably have anticipated that the seats would subsequently be available at a lower price," the ASA ruled.
Eurostar had "acknowledged that customers could be disappointed to see a price that was lower than they had paid, but believed that was outweighed by the benefit to other customers who would be glad to take advantage of the lower fare."
The company said it did not consider it was possible to advertise in advance that promotions were going to take place, "because customers would simply delay buying their tickets until then".