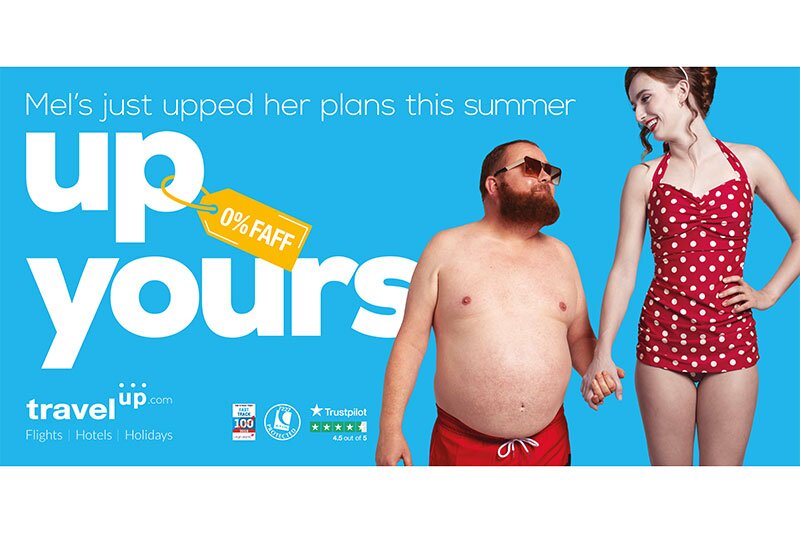 Video: TravelUp 'Up Yours' TV debut to be aired from Boxing Day
First-ever national TV advert part of multimedia brand awareness push
OTA TravelUp will see its first-ever national TV advert screened on Boxing Day as part of on an going multimedia brand awareness push.
The ad will appear on ITV, ITV2, Channel 4 and a host of Sky Channels around popular shows like the Tenable Christmas Special on ITV, Tipping Point and You've Been Framed.
The campaign highlights two key messages: firstly that TravelUp offers '0% Faff' when booking Flights, Hotels or Holidays; and secondly that as TravelUp intends to 'up' the travel game consumers are encouraged to 'up yours' too.
---
---
Craig Ashford, director of marketing and communications, said: "Do we know it will raise a few eyebrows with some people? Yes, but that impact is needed.
"This is a light to medium weight campaign that is striving for maximum reach and impact and we believe this campaign can achieve that.
"This in turn will build the brand recognition for TravelUp to match its current trading success."
Throughout 2019, TravelUp has been working with London-based agency Inform Advertising to come up with a brand campaign to increase brand awareness.
TravelUp said the campaign was based on market research and feedback from key stakeholders inside and outside of the business.
The OTA said this prompted it to decide to promote the existing culture within the company which is centred on providing joyful experience and making worldwide travel effortless.
The firm said: "This meant the team had to come up with an idea that was light-hearted, entertaining and all-encompassing of the TravelUp Group and it needed to work both online and offline.
"The TravelUp Group wanted to create a distinct brand proposition to strike at the heart of the market; to be impactful and memorable in what is a crowded marketplace. Market research suggested this was exactly what people would engage with."
Paul Ramm, director of Inform Advertising, said: "We are proud and delighted to have been involved in the creation and launch of TravelUp's new brand campaign.
"Everyone at TravelUp has been open-minded we couldn't be happier that our shared vision of raising the bar for travel is made real.
"We know that TravelUp has the ambition and the capability to become a leading, global travel business."
As well as TV, the campaign will be featured in London underground stations and on digital displays across the capital.
This will be supported using Video on Demand advertising through 4OD and a bespoke online digital campaign.
More: Icelolly.com turn-of-year ads promote ease of holiday comparison
Icelolly.com to sponsor prime time TV chat show
Hayes & Jarvis and Citalia turn to TV advertising ahead of peaks
Kuoni returns to TV with tweaked 'travel worth talking about' advert