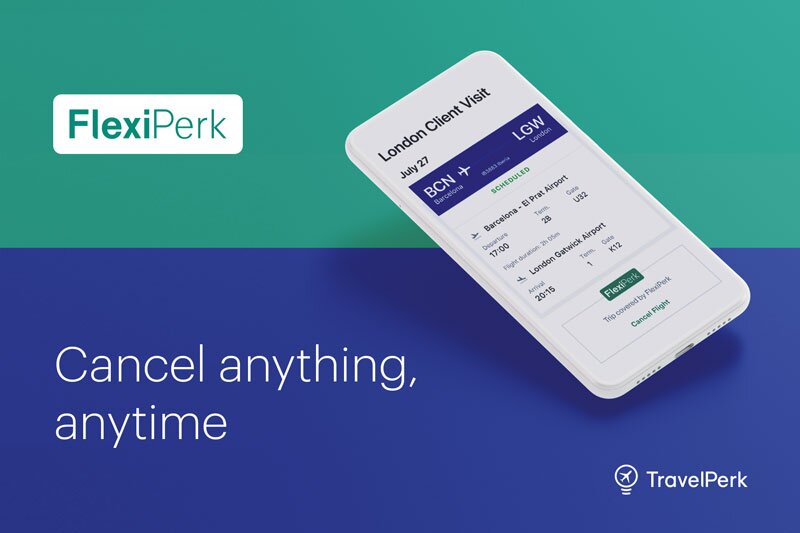 TravelPerk launches FlexiPerk for 'no questions asked' refunds on cancelled corporate bookings
Product adds upfront fee to guarantee refund of 90% on cancelled bookings
Business travellers are now able to be refunded for cancelled bookings with no questions asked through TravelPerk's recently launched product FlexiPerk.
FlexiPerk gives businesses the flexibility to cancel and be refunded hotel, train, Airbnb, car and flight bookings, including ryanair and easyJet, at any time and for any reason.
According to TravelPerk data, over 20% of business trips are either postponed, rearranged or cancelled and businesses face expensive "flexi-fares" offered by corporate travel providers or an extensive refund process.
FlexiPerk adds a small fee to a customer's booking upfront to receive a guaranteed 90% refund on each cancelled booking.
Users can also cancel their booking and be processed for a refund with one click on the platform and avoid having to read refund policies or fill out online forms.
TravelPerk customers Sumup and Picnic have already tested the product and reported an average savings of 26% compared to the cost of flexible fares and last-minute cancellation fees.
Matabato Kimani, Sumup head of operations, said: "At SumUp, our team has grown incredibly quickly, and we now have 15 offices across 3 continents. This means that our team is travelling more than ever, often long-haul flights and at short notice due to changing business needs.
"Using FlexiPerk has meant that we can focus on continued innovation in the financial space, rather than worrying about the cost of changing our travel plans."
Avi Meir, TravelPerk co-founder and chief executive officer, believes that FlexiPerk is the biggest development of the decade within the travel industry.
"It marks a change in the status quo of business travel's pricing structure – and is a key development in our long-term strategy, which is focused on not just playing catch up with the flexibility and convenience of consumer travel – but actually surpassing it.
"We are delighted with the feedback from early customers and are excited to be bringing FlexiPerk to the wider market as part of our mission to make every stage of business travel as seamless as possible."
The product launch follows the completion of TravelPerk's $104 million Series C and continues the company's growth and innovation strategy by distributing their pricing structure.