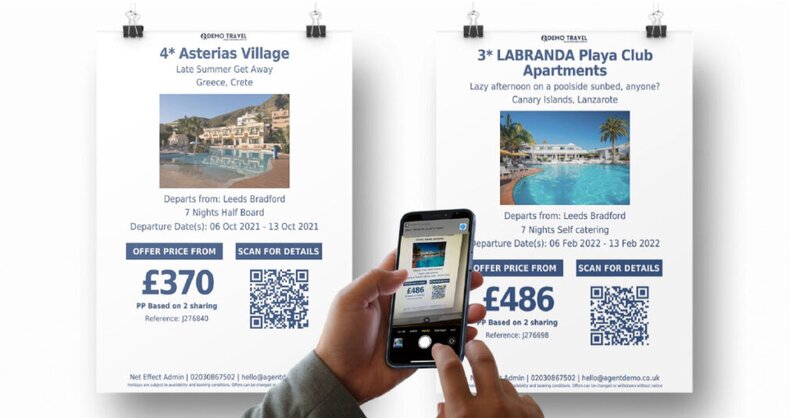 Travel Marketing Systems launches QR code window displays for high street agents
System to generate leads when stores are shut described as a 'game-changer'
Travel Marketing Systems has launched window display QR codes for high street travel agencies to allow passers-by to scan to make an enquiry.
The codes will take potential customers directly to the page on the shop's website corresponding with the deal they saw.
The site will provide full details of the offer and a form to make an enquiry, generating leads for agencies even if the branch is shut.
The system has been described as a "game changer" in shop window marketing by Travel Marketing Systems.
It has developed QR-coded promotional materials as part of an update to its TMS Marketing Manager software for agents, formerly known as Latecards.
The system has been developed for window posters printed from the TMS Marketing Manager system as well as for digital screens as a new way for agents to drive traffic to their website and generate more enquiries.
The TMS Manager System allows signed up operators – including Audley Travel, Explore and Cox & Kings – to upload offers to a central index, which agents can then use to generate own-branded window posters, emails and social media posts.
Company founder Steve Rushton said: "Although QR codes have been around for a while, the Covid-19 pandemic has turbocharged the revolution and they are now part of everyday life.
"Adding QR codes to our automated window poster templates allows high street agents to take advantage of this. It's a complete game changer for shop window marketing.
"Customers love the ease with which they can instantly access all the further information they're looking for. With QR codes, they can now fire off an immediate enquiry even when the shop is closed, meaning less missed opportunities for the agent."
Rushton said agents can quickly refresh and create their own window offers from the TMS Manager System with QR codes as a way to stand out from rivals on the high street. For digital window screens, agents can offer a range of revolving offers, all with their own QR code.