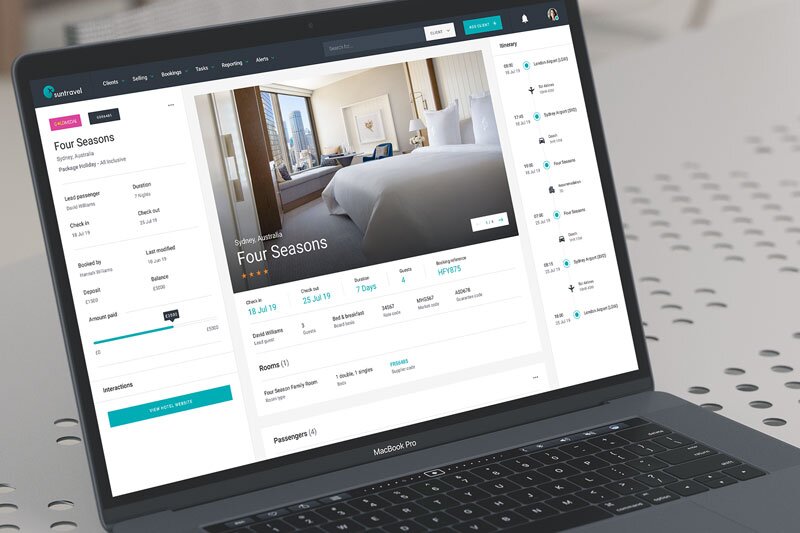 Travel Forward: Inspiretec showcases retail and cruise selling tech for millennial agents
Platforms give access to rich content and enable collaborative working
New retail and cruise selling technology was being demonstrated by travel technology supplier Inspiretec at last week's Travel Forward exhibition at World Travel Market.
The Cardiff-based firm says retail systems have little changed for over two decades and, having agreed a partnership with Widgety for cruise content, believes it can break into the lucrative sector.
Inspiretec will work to make the major cruise line suppliers bookable on the new platform, so that by the second quarter of 2020 80% of volume in the sector will be able to be booked though API connections with suppliers.
Both new systems have been designed with modern, graphical interfaces that allow the agent to access rich content and work collaboratively with clients building their package or choosing which package supplier.
Richard Baker, chief commercial officer at the Inspiretec Group, which includes the Travelink tour operator system, Holistic Customer Relationship Management platform and Sequence web design division, said:
"We are trying to make it fresh looking and bring in that rich content while still having all the data that the travel agent wants available. We are really designing something for the agent to work with the consumer on so they can turn the screen around."
As well as being able to build their own bespoke packages, the retail technology will allow agents to choose from the most popular package suppliers like Jet Holidays or Tui for those customers who know exactly what they want.
The system will pull in 'trending' packages and it allows the agent to remain logged into the single system instead of having multiple log-ins as they compare deals and pull in information from suppliers.
"It allows agents to use familiar tools where they know where everything is. We are not trying to reinvent the wheel but it brings it all back into the agency's technology stack.
"You may have a slightly older generation of travel agents who are very comfortable with green screen technology but the demographic of agents is changing and they will expect a faster, frictionless web experience.
"From what we see, retail is crying out for new technology. It has been neglected for 20 or 30 years because back then everyone was saying retail is going to die, it's all going online.
"But we see a lot of investment going in to retail because people like buying from people. You see millennials now wanting to buy from someone."
Inspiretec will roll out its new retail technology in two phases, the first will be the new agent platform in the first quarter of next year and then in early 2021 it will add a back-end management solution to help with reconciliation and "cashing up".
"This is a big investment for us, built around two tried and tested products (Travelink and Holistic) and filling in the gaps which are retail specific. It's going to be thousands of hours of development work overall for the whole project," Baker added.
Like with the retail platform, Inspiretec's cruise technology allows agents to put together their own tailored packages or access suppliers' own booking platforms via API links.
Widgety will provide all the operator and itinerary content as well as images, deck plans and cabin details for all cruise lines and ships.
"Cruise is a massive growth market," Baker said, "so it makes sense we deliver an integrated cruise booking journey alongside flights. One of the key things is content and imagery, bringing that back into the system and getting it to the user."
The integration with Travelink allows the agent to build the cruise package and add ancillaries and other products and it will allow the customer to manage their itinerary in a single system.