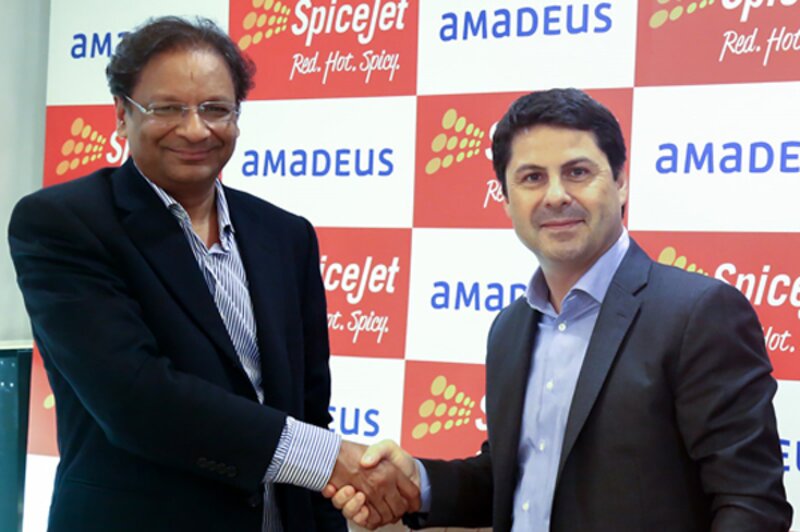 SpiceJet announces Amadeus deal
Carrier to work with a distribution partner for the first time
Amadeus and SpiceJet, an Indian low-cost carrier, have announced a new distribution agreement that gives Amadeus' global network of travel sellers access to the airline's fares and prices through the Amadeus Travel Platform.
This distribution deal allows travelers to compare value instead of just price in the shopping process.
This is the first time that SpiceJet is working with a distribution partner. By connecting to travelers through the world's largest community of travel sellers and buyers, the airline will be able to showcase its products on a global scale, access new markets and partners and grow its customer base.
SpiceJet operates on average 516 daily flights to 59 destinations, which includes eight international destinations. The airline will soon start flying to Jeddah, which will be its ninth international destination.
The airline connects its network with a fleet of 48 Boeing 737 MAX and NG jets, 27 Bombardier Q-400s and one B737 freighter.
It also claims it is India's largest regional player operating 23 daily flights under the regional connectivity scheme UDAN.
Ajay Singh, chairman and managing director of SpiceJet, said: "I am delighted to announce our new partnership with Amadeus which will help SpiceJet reach new customers both within and outside India.
"SpiceJet is in the midst of its most exciting growth phase and I am sure that this new distribution network will enable a large number of customers to connect with our huge domestic and growing international network."
Cyril Tetaz, executive vice president of airlines at Amadeus, Asia Pacific, added: "With our partnership including distribution and IT solutions, we are very proud to support SpiceJet in its growth in India and beyond.
"Spice Jet will be able to differentiate its offers and empower travelers with the transparency and customization they need through our global travel network.
SpiceJet is a PSS customer of Navitaire, an Amadeus company, and has relied on the New Skies reservation platform to keep pace with the carrier's growth since its launch.
The close integration between Amadeus and Navitaire platforms can enable additional revenue opportunities for joint customers.
In terms of distribution, SpiceJet joins 440+ airlines, including 110+ LCCs and Hybrids, whose fares and merchandising content are bookable in Amadeus.