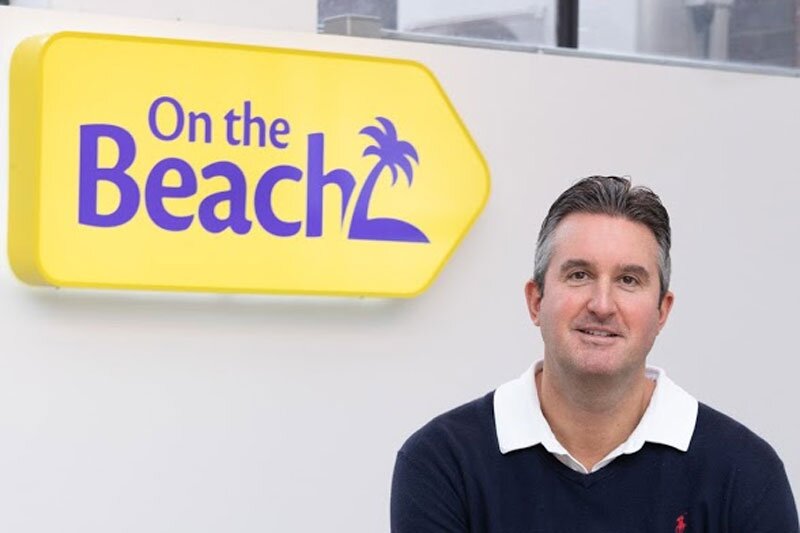 On The Beach is protected from impact of Brexit, claims OTA's chief
Manchester-based OTA announces half-year profit up 14%
FTSE 250 OTA On The Beach says it's financial performance is protected from the full impact of any Brexit downturn in UK outbound summer holiday bookings by its flexible marketing model.
Speaking to Travolution as the Manchester-based retailer announced a 14% increase in half year adjusted profit before tax to £15.5 million, chief executive Simon Cooper said background market conditions were "soft" during the key early year sales period.
"We will feel an impact on the top line," he said, "but we are somewhat protected on the bottom line. If there is a lack of search activity then we would spend less. Our advertising model is somewhat protected.
"Tour operators will protect their top line because they have to sell their product but there is an impact on bottom line. In the medium term there is only one winner on that scenario."
On The Beach revealed it is generating 68% of its traffic free through brand, up from 62% in the first half of last year, a factor that also helps the OTA mitigate and drop off in demand.
But Cooper believes the proportion of brand traffic it generates has scope to continue rising. "Look at brands established for longer than On The Beach, they are in the 80s and 90s. Why would we not aspire to be the same?"
Cooper said OTB will continue to invest in its brand awareness to achieve this and that investments made in the first half of 2019 will start to bear fruit in the second six months.
One of those investments was £500,000 on a B2B version of its technology for Classic Online, its new trade portal launched following the £20 million acquisition of tour operator Classic Collection in August last year.
Cooper said the portal already has 250 agents with logins to use it half of which are active daily used and he was confident of reaching the 1,000 target it has set itself by the end of the Summer.
One black mark on OTB's trading was in its Swedish overseas operation which was badly hit by the failure of airline Primera in October last year. Revenues fell 56%, however the OTA was able to offset a small EBITDA loss for the half year this by reducing marketing spend by 75%.
"The loss of Primera was very unhelpful," Cooper said, "albeit they were small they were a specialist provider of value for money seats out of Sweden to short haul destinations.
"We reduced spend, so the benefit if brand share increased during the course of the first half and we maintained a break even position and as we go from H1 to H2 moved into an increasingly positive territory while maintaining marketing efficiency."
Cooper said the capacity lost due to Primera's Denise has been replaced by other third party airlines.
Analyst Peel Hunt, in giving a positive assessment of OTB's trading update, said international was "back on the runway".
The analyst also said its move into the third part package market is expected to "scale rapidly" adding: "A further retrenchment by Thomas Cook out of the short haul beach market would supercharge growth."
Referring to OTB's acquisition of rival OTA sunshine.co.uk, Peel Hunt, added: "On The Beach hasn't just brought you Sunshine, an acquisition delivering on its promised diversification of the core.
"It has expanded into Northern Europe and, with Classic, created a commercial and technology platform to address offline sales of package holidays.
"All this is being built on a core business which has been able to grow profits in a very tough holiday market. We think you should buy the shares any which way you can."