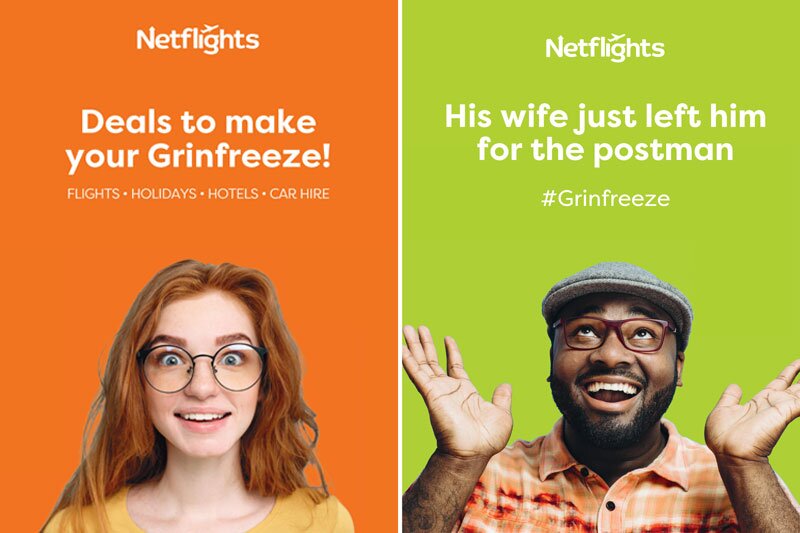 Netflights emphasises its northern roots with biggest ad campaign in four years
Dnata Travel-owned brand launched 'Grinfreeze' campaign last month
Netflights has launched its biggest multi-channel marketing campaign in four years focussing on how finding a great flights deal should make customer happy.
The dnata Travel-owned brand, part of the Gold Medal family based in northwest England, launched the Grinfreeze campaign in markets close to its base last month.
Grinfreeze was described as the reaction to finding a great flight deal and how it can be impossible to contain that feeling in even the most awkward circumstances.
The campaign encompasses TV and out of home advertising, social media, radio, CRM and content marketing.
Netflights worked with Lancashire-based The Hatch creative agency on the campaign and says it reflects its 'human' brand persona and humorous Northern roots.
Netflights' managing director, Andrew Shelton, said: "Netflights is here to take the frustration out of flight search and the aggravation out of aggregation.
"We think that finding, buying and taking a flight should be something that makes you happy – whether that is because you've got a great deal, or just because it's been easy and stress-free.
"Grinfreeze captures and celebrates that feeling in a way that is uniquely Netflights – whatever's going on in life, whether you are in contact with our brand via a digital channel or our call centre, we'll still get you a proper good deal.
"Early reaction to the campaign has been really positive. Direct traffic to our site increasing by 85% year on year in the week we launched across the northwest.
"Since then, we've averaged more than double the direct traffic we were achieving for the same period four weeks prior – so people are really liking what they see."
Graham Slater, creative director and founder of The Hatch, added: "We were hugely honoured to be chosen to work with Netflights on such an ambitious, full spectrum campaign.
"Working closely with their team to develop the concept over a number of months made for a hugely inclusive project.
"The campaign needed to emphasise Netflights' values of being a 'people first' business, and with its northern roots, humour was an important aspect of the overall creative feel. This made for one of our most exciting and enjoyable projects to date".
The campaign launched around Netflights' northwest home during August, appearing on prime out of home billboard sites in Manchester, with one of two new TV commercials (the 'Break Up') running via Sky Adsmart and VOD across the region.
The ad will now also be seen across Channel 4, Sky1, Dave, Fox, E4 and Comedy Central until the end of October.
The second new spot (the 'Penalty'), will also run across Sky Sports from September to the end of October.
New radio ads will run on Heart North West, Capital Manchester and Smooth Northwest until the end of September, and Kisstory nationally from September to October.