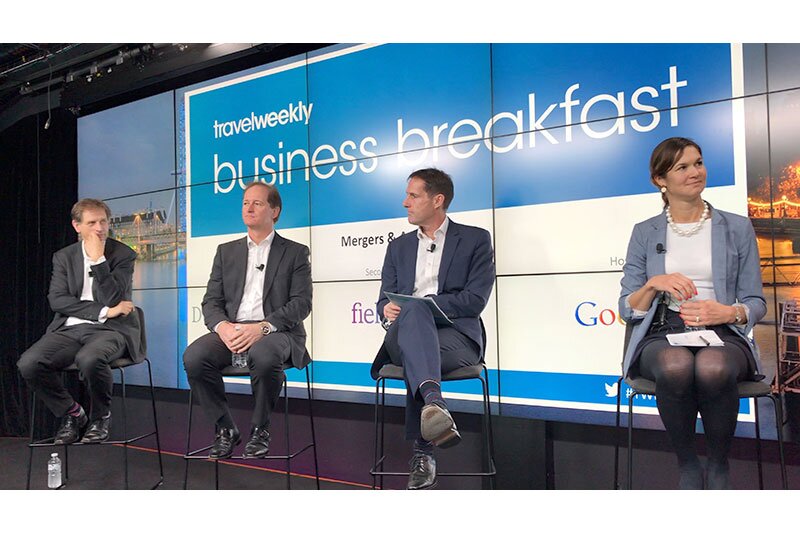 Love Holidays sale 'underlined appetite for travel from private equity'
The former chairman of OTA Love Holidays said the firm had been keen to complete its sale before the summer due to the possibility of "choppy waters" ahead in the market.
Roger Flynn was speaking on a panel about M&A activity in travel at the latest Business Breakfast held by Travolution sister title Travel Weekly and hosted by Google in London.
Love Holidays, which was officially launched in January 2012, was sold in May to private equity house Livingbridge, which formerly owned rival On The Beach, for £180 million.
Flynn said the process of selling the business was almost a year in the making and Love Holidays had spent a lot of time and energy preparing for the outcome.
"We were fortunate in that in the travel space there is a lot of appetite for travel businesses. Private equity has done very well from travel by and large.
"We were very keen to get the deal done before the summer. Who knows what will happen between now and 2019, there could be some choppy waters ahead."
However, Flynn said Love Holidays had continued to outperform expectations and described achieving a £180 million valuation in just six was "pretty good doing".
And he played down the potential impact of Brexit although admitted he had never known a period for business with such a lack of clarity.
"I think in the end a deal will be done. If you have no deal Ireland, Belgium, and Holland will fall in to recession so for the EU it's as much a problem for them.
"But the risk of a weak deal as gone up significantly. It's painful not knowing what's going to happen after March when you are selling a year in advance.
"Two years ago [after the referendum] we had a currency shock and prices peaked. That caused a two-month drop in conversion but then it all came back as people got used to working out how to afford their holiday. It happened then and people absorbed it."
Flynn said the attractiveness of Love Holidays to investors was down to its point of differentiation, but he said the firm had looked to fly under the radar in the early days.
"We did not want others [competitors] to find out about us until it was too late," he said. "Love Holidays looks at holidays differently to the rest of the market.
"We started with what kind of holiday do you want. That's easy to say, but technically very difficult to pull off but we built an engine to pull that off.
"We had all the data of all the airlift out of the UK, all hotels and all transfer information 18 months in advance. In theory we could serve you 14 billion holiday permutations.
"It's a fundamentally different way to structure your technology to enable a fundamentally different holiday buying experience."
Flynn said trade interest in Love Holidays "fell by the wayside" as the valuation rose and said once it got to a certain level only private equity remained in the hunt.
"Private equity is prepared to pay more than a lot of trade [buyers]. You have quite a lot of trade players who would be interested if Love Holidays was bigger and more international.
"Expedia would love a short haul beach brand but not just one in the UK."
Flynn added floating via an IPO, as On The Beach did having been sold on to Inflexion by Livingbridge, was considered but it was decided it was not right for Love Holidays because it was too great a risk for shareholders.