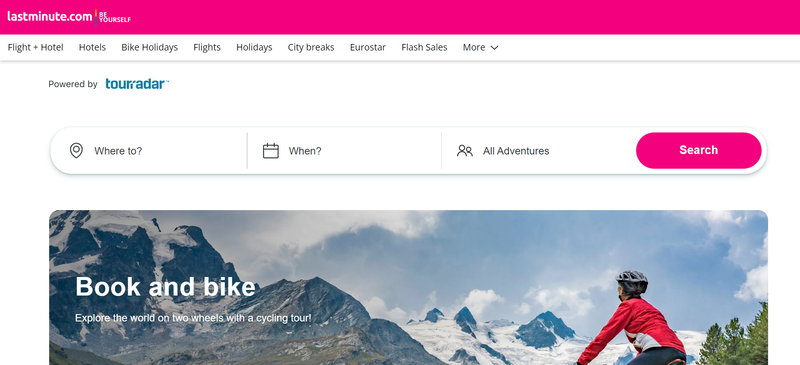 Lastminute.com marks Tour De France start with TourRadar biking trips partnership
Whitelabel platform will feature Exodus Travels, Explore, Intrepid, and Discover France Adventures
lastminute.com and TourRadar have teamed up to provide biking holidays to the European OTAs clients.
The partnership was launched this week as the annual Tour De France race started in Copenhagen.
Operators featured on the dedicated whitelabel TourRadar platform include Exodus Travels, Explore, Intrepid, and Discover France Adventures.
The site is available in UK, German and Dutch and lastminute.com will promote bike holidays from its homepage through the Tour De France.
Guk Kim, chief operating officer at lastminute.com, said: "As official travel partners of the Tour de France, we were looking for the best provider to offer our customers great cycling holidays.
"After in-depth market research, we chose TourRadar's adventure booking platform, a leader in this field providing a wide range of solutions at a global level.
"At lastminute.com, we aim to continuously extend and diversify the available travel options for our customers, especially including environmentally conscious vacations like bike tours. Our partnership with TourRadar is another step towards this direction."
lastminute.com has launched a digital Tour De France campaign with the theme Tour Like a Pro offering travellers tips and advice on how to best experience the race.
This will also feature some of TourRadar's best-selling Bike Holidays in France, Belgium, Switzerland, and Denmark, including Cycling from Bruges to Brussels and Cycle the Loire Valley.
"lastminute.com is a pioneer in holiday packaging and as they look to expand their offerings, we are delighted that they chose TourRadar for their organized adventures," said Travis Pittman, chief executive of TourRadar.
TourRadar is a leading adventure booking platform that offers more than 50,000 multi-day organised trips across the globe.
It offers partners the opportunity to integrate its booking platform directly onto their websites using API or same-day delivery whitelabel and affiliate solutions.