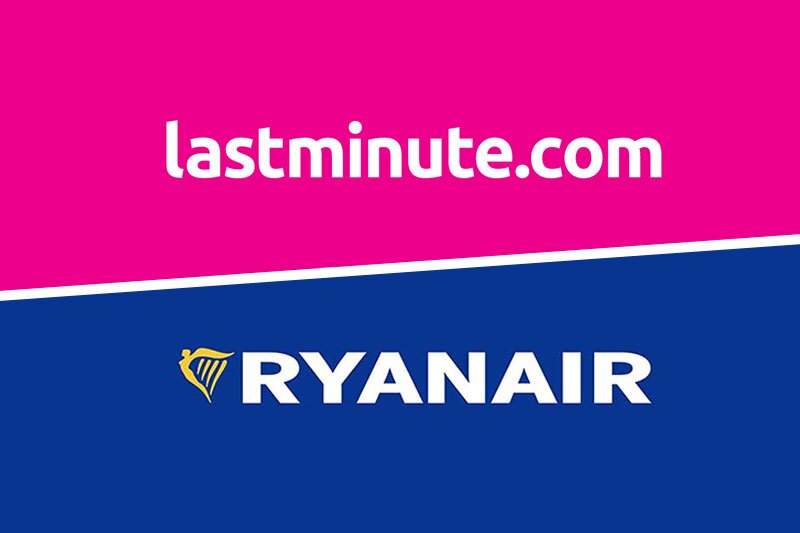 Lastminute parent claims 'historical moment for industry' after latest court rulings
Swiss lm Group claims 'some important milestones' for OTAs in fight over fair competition and legitimacy
Long-running animosity between leading European low cost carrier Ryanair and OTAs has been exacerbated by the COVID-19 pandemic with allegations traded over who has been responsible for failing to refund customers.
Top of the airline's list of brands it likes to attack has been lm Group, the parent of lastminute.com, as well as volagratis.com, rumbo.es, weg.de, bravofly.com, although Love Holidays, On The Beach and Kiwi.com have been singled out.
Lastminute is by no means the only OTA in Ryanair's sights as the airline strives to freeze out what it describes as "unlicenced screen scrapers" from the market and encourage more customers to deal with the carrier direct.
As well as a high-profile PR battle, the issue has been played out in various courts around Europe over the years, but to date no definitive ruling has been made for either side to claim ultimate victory.
However, over the Christmas break lm Group issued an update citing three of the latest rulings in Italy and Germany which it claimed supports its view that it has every right to list and sell Ryanair inventory to its customers.
Ryanair's dismissive response to the claim when put to it by Travolution, says more than its brevity suggests about its view on whether the rulings do in fact confirm the legitimacy of lm Group to sell its flights, as claimed.
"Ryanair does not comment on ongoing litigation," the airline said in a statement.
So, apart from Ryanair's direct attacks on lm Group during the pandemic, what prompted it to highlight what it describes as "some important milestones" and a "historic moment for our industry"?
The three most recent rulings which lm Group referred to included:
After an appeal by Ryanair, the district Swiss Court of Ticino backed up a decision in 2019 by the Court of Ligano which concluded that the group was acting lawfully in offering Ryanair flights for sale.
Lm Group went on to claim that the court "declared the numerous discredit campaigns launched by Ryanair against the group since 2008 as vexatious and ruled they were deliberate acts of unfair competition. For this reason, lm group is now entitled to seek and recover the legal costs, and the appropriate publicity around this decision".
In December 2020, the District Court of Hamburg ruled that lm group's offering of Ryanair flights on lastminute.de does not violate German competition law. Ryanair had alleged that lm group's practices were misleading and its demand for a preliminary injunction (non-final) failed. Lm Group said: "Although in Germany this may not be a conclusive step along the decision path, it has been a success in managing quickly and efficiently Ryanair's ungrounded allegations."
In September 2020, the Court of Milan ordered Ryanair to remove slanderous content against lm group and other OTAs. Lm Group said the court imposed on Ryanair a daily penalty for the non-compliance with this order.
"Those contents were published according to Ryanair's strategy to discredit all the players of fair competition in the market. But the judge issued a preliminary decision in line with the spirit of the Italian Supreme Court's decision in favour of lm group. The final decision on lm's application for a preliminary injunction should be issued in a whort while," lm Group said.
The OTA added: "The Italian Supreme Court had rejected Ryanair's grounds of appeal aimed at having a declaration of its right to refuse its consents to lm Group to have access to its database and to intermediate booking procedures on behalf of their clients."
Lastminute said the cumulative impact of the rulings is to "add to its mosaic of legal victories against Ryanair that benefit all European travellers, by maintaining the possibility to reserve and compare Ryanair's flight and hotel packages through travel agency sites".
Lm Group stated: "With great effort, lm Group is encouraging regulatory authorities and consumers' associations all over Europe to examine the facts and become aware of the reiterated and multiple hidden or visible signs that the 'European Number One airline', as it openly defines itself, is opposing any attempt of working fairly in a market dominated by its own misleading practices."
Marco Corradino chief executive of lm Group, said: "This clarifies that Ryanair's conduct is unlawful while confirming that our service encourages fair competition in the market and brings strong value to the customer by offering a mix of unique travel solutions from several providers – something Ryanair and traditional airline companies cannot offer alone.
"We are convinced that such decisions will not be the only ones testifying the disruptive and now needed change in the world of online travel services, both in the definition of relations with airlines and in relations with new online tourism operators.
"Only partnerships can grant consumers a reliable and comprehensive service which will be the 'travel winning formula' in this complex period.
"I want to thank our legal team for achieving these important successes by working hard and brilliantly over the years. They are the ones who deserve the credit for this historic moment for our industry."
Alessandra Reda, CCOO, legal and tax director, for the Group added: "These decisions are a re-confirmation we expected and they serve as further evidence that Ryanair's aggressive practice is harmful and misleading to consumers.
"We are proud of these results but we are ready to carry on fighting on behalf of our customers."
Reda concluded by thanking the legal teams that have worked on the cases including Stefano Codoni and his team at Walder Wyss Law Firm in Lugano, Julia Schönbohm, Bolko Ehlgen and Tillmann Schöller of Linklaters Law Firm in Frankfurt, and Marco Consonni and Ludovico Anselmi of Orsingher Ortu Law Firm in Milan.
Given the ongoing level of animosity between Ryanair and OTAs, these legal teams are likely to be busy fighting further battles in the months and years to come.