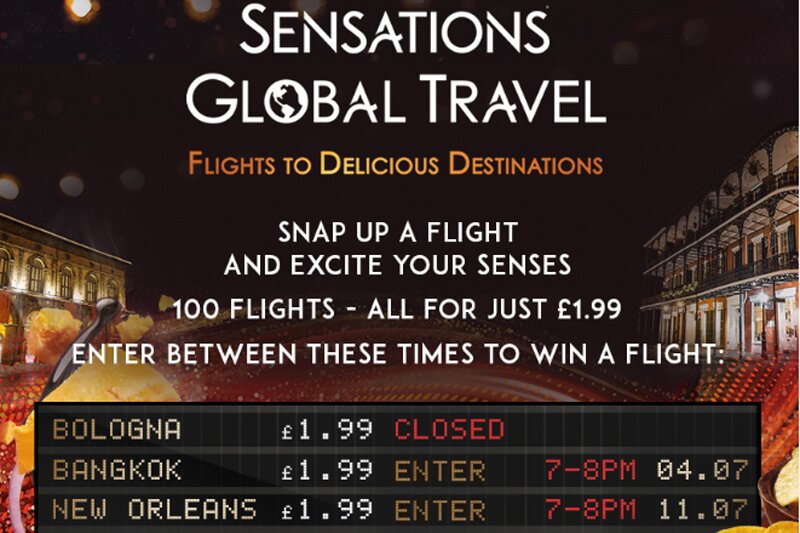 Lastminute.com and Walkers collaborate on £1.99 pop-up flash sale flights shop
Campaign allows users to buy flights to three destinations for just one hour
Snack brand Walkers and lastminute.com are collaborating on a new online pop-up store offering flights from just £1.99.
The campaign, to promote new flavour of Walkers Sensations, allows users to buy the flights to three destinations for just one hour.
The destinations being offered are Bologna (now closed), Bangkok (7pm-8pm on July 4) and New Orleans (7pm-8pm on July 11).
Each destination relates to the flavour of crisps in the promotion and all proceeds of the promotion will go to charity.
A limited number of flights are being offered for each destination in partnership with leading European OTA lastminute.com.
Anyone who misses out will be offered a free trial of deal finding site Jack's Flight Club.
Alison Kirk, brand manager at Walkers Sensations, said: "Our snacks are inspired by flavours and recipes we've discovered from around the world.
"Nearly half of the people questioned said that they want to travel to try new and exciting food, so the launch of Sensations Global Travel aims to help people experience the sights, sounds, tastes and smells of the delicious destinations Sensations are inspired by.
"For those who manage to get their hands on one of the 100 flights, we hope that by reducing the price down to the cost of a packet of crisps, we're able to unlock an exciting feast for the senses, giving them a chance to explore new and far-flung places."