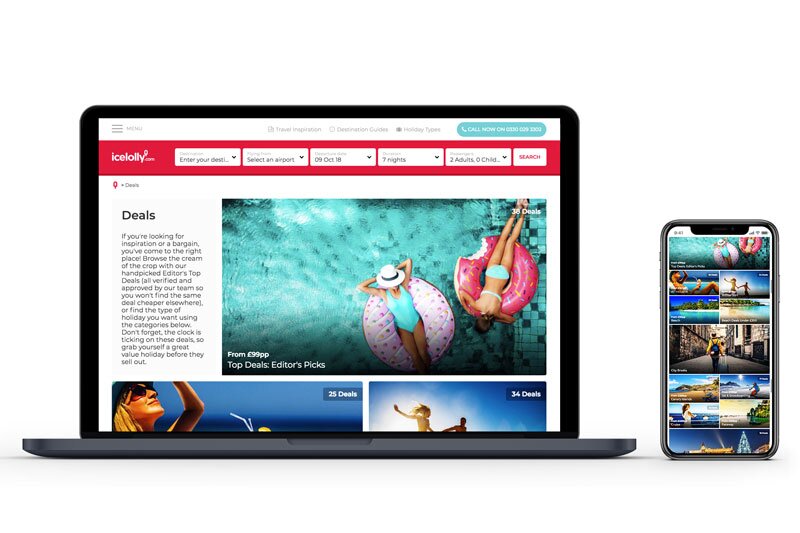 Icelolly.com unveils three new features to assist users to search and book
Price comparison site says curated content will help simplify research process Continue reading →
Holiday price comparison website icelolly.com has unveiled three new features designed to make the search and book process simpler and more user-friendly.
A Deals Collection platform will provide inspiration and ideas for customers looking for something new and for value deals.
It highlights the many different types of experiences available to customers, broken down into deal types and curated offers.
Bespoke categories of icelolly's most popular searches include types of holiday (all inclusive, family, luxury, cruise), seasonal offers (beach, winter sun, faraway, ski and snowboarding), destinations (Canary Islands, Disneyland Paris, UK breaks), and experiential (dining, days out and spa, Christmas market breaks).
The Deals Collection is headlined by a selection curated 'editor's picks' Top Deals showcasing the very best offers across all categories.
The second new feature is a year-round Pricing Calendar that allows customers to compare holiday deals over the course of an entire year to see how prices vary by departure day.
Users can search for deals matching their selected date range while also refining their holiday search across various criteria including the type of hotel they wish to stay in, star rating, budget, board basis and travel provider.
The function uses 12 million different search combinations across icelolly.com's top 20 destinations so prices are instantaneously displayed and are as accurate as possible.
Icelolly.com claimed this is the first time that a consolidated offering allowing customers to compare real-time deals across an entire year has been featured on a holiday price comparison website.
The third new feature is Destination Guides. Icelolly.com has relaunched its destination pages with a new look bold colours, striking imagery and curated content.
Icelolly.com, says the aim is to simplify the research process for customers looking to book.
In total there are 880 pages covering 22 of the company's most searched holiday destinations providing customers with a comprehensive range of hints and tips.
Additional features include an infographic that highlights travel essentials such as the currency used and the language spoken as well as additional insights, such as the average price of a three course meal and the cost of a beer in each destination.
The top resort destinations also link through to icelolly.com's new Pricing Calendar.
Revealing the new features the Abta Travel Convention in Seville, Icelolly.com chief executive Richard Singer, said:
"Icelolly.com features millions of experiences from nearly all the major travel companies in the UK.
"As a business, we consider the customer journey in everything that we do, and these innovations reflect our dedication to ensuring that our customers enjoy the very best user experience in the market."