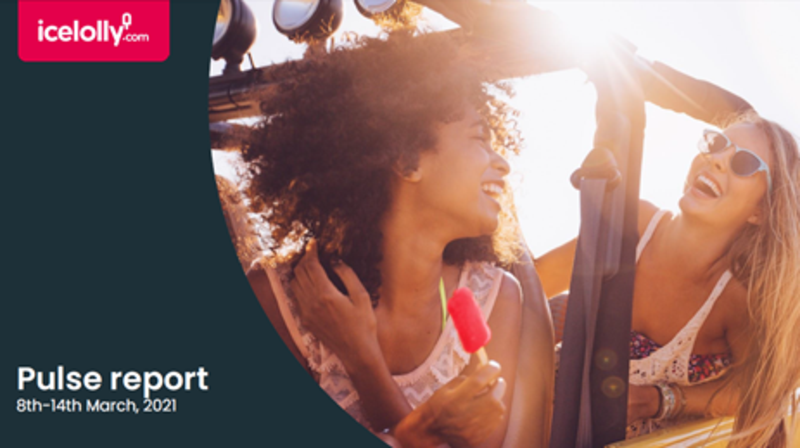 Icelolly.com Pulse: Confidence maintained for summer 2021 getaways
Latest weekly consumer sentiment insights from holiday comparison website
Signs of continued confidence in the imminent restart of travel among the public was reported by icelolly.com this week.
May 2021 saw a notable increase in search activity, although the month out of the top five most popular search dates as the key summer period continues to dominate.
The weekly search and booking Pulse tracker from the holiday comparison website found growth in May, June and September 2021 searches was largely offset by a fall in July 2021 searches.
December 2021 and July 2022 were big gainers, all with a 20%-plus share increase.
Among overseas destinations, Lanzarote and the Algarve saw the biggest share gains, not only in the top 10, but in the top 25 destinations.
Dalaman in Turkey was the only destination in the top 10 to lose search share. Egypt (in 17th) saw the biggest share fall of destinations in the top 25, with a 21% drop in search share.
Data for domestic destinations revealed gains for both the Lake District and Devon as the search share gap with top spot Cornwall narrowed again.
Norfolk saw the biggest share drop in the top ten (-26%), while the Peak District was the biggest gainer (+29%).
UK country searches retreated to around 6.5% of all searches, similar levels to before last week's spike in Scotland searches.
Chris Webber, icelolly.com head of travel deals, said: "Both searches and bookings held at a similar level to last week, with most of the popular destinations for overseas holidays keeping their position.
"There were increases in share for Lanzarote and the Algarve and it could be the latter grows again in the coming days after leaving the government's 'red list'.
"S21 continues to dominate searches, with a notable week-on-week increase in share for travel in May 2021.
"In UK search, the Easter and summer school holiday periods are proving the most popular, with destinations like the Lake District now starting to push those English seaside destinations hard for the most-searched position."