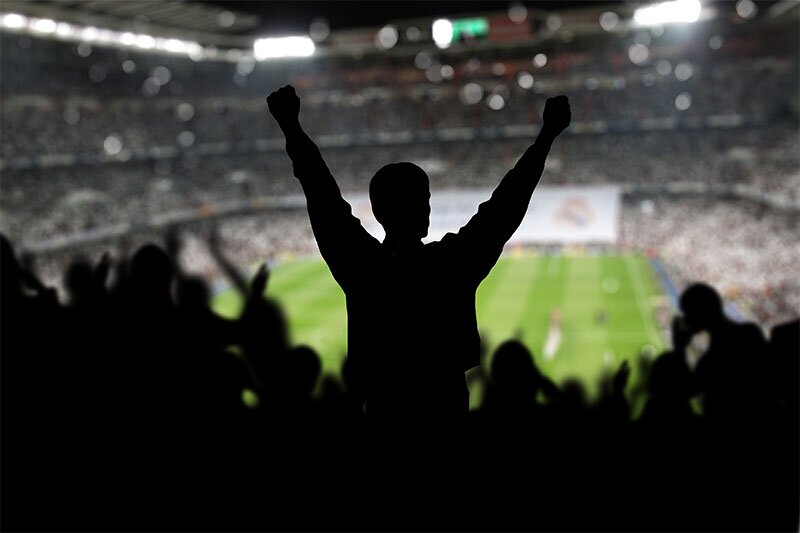 Guest Post: Using major sports events to score big with customers
Position the best message at the best moment for sports fans, says ADARA Chief Marketing Officer Carolyn Corda
Position the best message at the best moment to go for gold, says ADARA Chief Marketing Officer Carolyn Corda
At any given major sporting event, you will find a legion of travelling fans passionately watching their team duke it out for the top spot. They quite literally put the 'tour' into 'tournament'.
Scotland's football and rugby teams have the tartan army, English cricket's travelling supporters are charmingly named the Barmy Army while the Tifosi are the large and passionate group of Ferrari fans that religiously follow their team from race to race around the globe.
According to the UNWTO (2016), sports tourism is worth US$800 billion (£610 billion) globally, making up more than 10% of international travel and tourism receipts. It's a significant segment worthy of some individual attention.
Supporters will be spoiled for choice in 2020, with the Euros, the Olympics and the Six Nations to name but three major events that make up the sporting calendar. With so much international sport to enjoy, it's a golden opportunity for travel brands to tap into the potential these passionate fans present, not least because sport isn't the only thing on their mind.
Understanding what travelling fans want during major sporting events is key to unlocking that potential. Recognising the travel and spending patterns triggered by events can help brands prepare to leverage them for maximum gain – and so ADARA has looked into a past event (the 2019 Rugby World Cup) and an upcoming one (the 2020 Olympics) to determine the data patterns and what we can learn from them about traveller behaviour.
Fans are keen explorers
Research conducted by ADARA on the 2019 Rugby World Cup shows how travel brands can leverage sporting events to drive sales and revenue uplift. It found that travellers to Japan for the Rugby World Cup expected to stay for an extended period of time, between 16 days (travellers from the US) and 24 (Canadian travellers). Within this period, the average hotel booking was for three days, indicating that rugby fans planned to visit multiple cities and hotels during their trip.
Delving into the Rugby World Cup data, it became clear that, on this occasion, three out of five of the top airfare spenders came from European countries. It follows that travel companies looking to target customer segments around a major event should explore where the most committed fans are coming from, their average spend and personalise accordingly.
Getting the timing and location right is also critical. For example, ahead of the 2020 Olympics ADARA has compared booking and searchings to Tokyo airports (Narita and Haneda) between the 1st August 2019 and the 31st December 2019. The research found that those booking to go to Tokyo will have already done so 293 days before the games, on average. It also found that Americans (35.5%) were most likely to search for flights to the 2020 Olympics, followed by France (7.6%), the UK (4.7%), Germany (4.2%) and Mexico (3.9%). Even more interesting – half (49%) are flying solo rather than as part of a group: a fact with clear implications for how ad creative can be customised, focusing on joy and discovery over, for example, family images.
How to reach elite travellers
Travel from many countries to Japan is something of an undertaking, and certainly not on the same level as a hop across the Channel on a low-cost airline. It is therefore unsurprising that a significant proportion of travellers to the Rugby World Cup in 2019 and those going to the Olympics in 2020 are elite travellers at 33% and 18% respectively. Elite travellers are defined as those that take at least nine flights and have six hotel stays a year.
Elite travellers are a significant sporting audience: for the Rugby World Cup nearly half of all reservations were made by members of elite level hotel loyalty scheme holders. However, this does not mean that travel brands should only focus on high-income customers. An elite traveller may be an elite loyalty level for a budget brand. And, on the flip side, consider the 'low-high' phenomenon. Less wealthy travellers will economise on their flight experience to stretch their hospitality and entertainment budget at the destination. This is particularly relevant when considering which consumer segments to target, as high end hotels and experiences shouldn't exclude customer groups with lower income. And again, as these visitors are predicted to visit multiple hotels, there is a big incentive to hoteliers to reach and influence these travellers.
Travel brands must understand how to reach this core audience. For example, they must understand that elite travellers take longer than non-elite travellers to book a hotel room. In fact, research finds that elite travellers search for around four days before picking a hotel booking, which tends to happen after they have booked their flights and 23 days prior to their trip.
Delving into customer data that reveals how the sports fan pays for, plans and organises their sporting travel experience is the key to devising strategies to target them effectively. Relevant promotional offers, email marketing campaigns and personalised recommendations based on signals from similar events help marketers reach this valuable cohort during its most receptive moments. If travel marketers can understand what would make the best message at the best moment for a sports fan, the gains will be lucrative – and the offer would become not just relevant to the customer, but compelling.