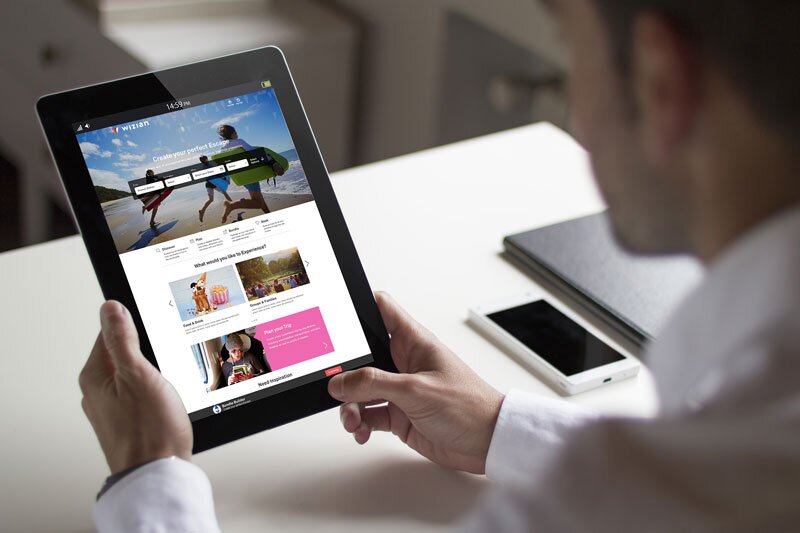 Guest Post: Meet the growing demand for booking all travel elements together
Consumer confidence inspires package shift, says Hugo Kimber, chief executive of Malvern Group
Consumer confidence inspires package shift, says Hugo Kimber, chief executive of Malvern Group
One of the many privileges of working in the travel industry is being party to creating memorable experiences for consumers. Ensuring the booking process is as seamless, enticing and cost effective as possible for both the consumer and business traveller, is one of the great challenges faced by travel technology. It's a challenge Malvern Travel Technology and our unique Wizian booking platform embraces with great enthusiasm.
Fortunately, our exuberance is matched with consumer confidence. We recently commissioned an online YouGov poll on packaging trends and the results show that there is a real demand for the ability to book all elements of a break in one place. As well as the growing requirement for package bundling, we also found that consumers are inspired by the benefits of it to take advantage of domestic deals in the UK in particular.
Malvern's poll of 2011 respondents showed that one in five (18%) consumers took one package break in 2018. Almost 70 per cent (69%) said they would book a UK trip using an online booking facility. This is a very promising sign in domestic travel terms and reflects the need for simplified booking systems, such as Wizian, that can cater for domestic travellers' full spectrum of travel needs and preferred experiences.
According to our poll, the days of standard accommodation and flights package bundles appear to be on the decline. Consumers now want a broader choice of options and experiences under one booking facility.
While a substantial two thirds of consumers still require accommodation (67%) and flights (65%) to be key elements in packaging, our poll registered a growing demand for the inclusion of bus and train travel within package bundles as well experiences such as meal bookings and cultural events.
Some 36% of respondents expressed a demand for the convenience of bus travel (from airport, around destination and key tourist spots) to be included as a booking option in a packaging a trip, closely followed by train travel – 32%.
Our own research when developing Wizian showed that instead of exploring countless different sites for inspiration, planning and experiences, a growing number of travellers want to be able to plan using technology that is available to them conveniently in one, single booking process.
Our developers were able to harness the latest technology into a single platform that supports customers' ability to integrate all their requirements in one place. We were pleased to see this demand for flexibility reflected in the YouGov poll.
It showed a clear appetite for packaging to include the booking of experiences and activities too, with perhaps a surprisingly high number of consumers (1 in 5) expressing a wish for restaurant bookings to be included in their bundles.
Notably, over a quarter (27%) said they'd like museums/attractions and theatre/shows tickets to be included in the packaging process too. This reflects recent findings by AITO's 2018 annual survey that 'culture, arts and history trips' are now the number one travel experience sector for UK consumers.
Designing packages that meet the call for more variety and options is at the forefront of Malvern Travel Technology. It's largely why and how our ground breaking Wizian booking platform was developed. Now, just over two years on from its inception, we are delighted, thanks to the dedication of our team, the platform is now being showcased and embraced by major travel industry brands.
The response has been tremendous. Trusted household names have recognised the innovative approach of this white label provision which offers customers even more flexibility, choice and value.
The internet and technology has played a key role of course. Browsing potential destinations and experiences online using handy technology now plays a crucial role in the booking process. Now, smart phones and tablets are key tools in the packaging option resurgence. Our survey showed that almost a quarter of tech savvy travellers use these gadgets alone to book trips, with nearly 2 in 5  (39%) of respondents using laptops and PCs.
The resurgence of packaging reflects consumer demand for certainty and cost effectiveness. The present economic and political climate is a factor in this – many travellers understandably wish to 'lock in' prices and deals while contending with fluctuating exchange rates and precarious predictions over Brexit.
Trust is key to inspiring confidence in travel both in the UK and abroad. Our poll found that Atol protection was as equally important in choosing to book a package as convenience (both 47%). Interestingly, these two factors polled higher in importance than saving time (32%) and cost/value (27%).
The way both business and leisure travel has functioned has been very mechanical. If you want to go somewhere on business or for fun you will book a hotel and some transport, and then book a restaurant, show or meeting room when you get there. Being able to bypass this approach to great experiences when you travel by making informed choices and balancing spontaneity with local demand patterns is a key requirement.
Our solution is to bring ease when pulling in things – activities, experiences, additional bookings – into your itinerary seamlessly, as you are on the move. That's what Wizian delivers. Travel is not static and nor should the planning and booking experience be either.
With Malvern Travel Technology and the Wizian digital solution behind it, we see travel booking trends changing for the better as more and more travellers embrace unified and integrated journey experiences, all in one place. Saying goodbye to the use of multiple screens and booking/review sites for a two night stay is a huge opportunity for Malvern and one that has been talked about, but not delivered, by the industry until now.