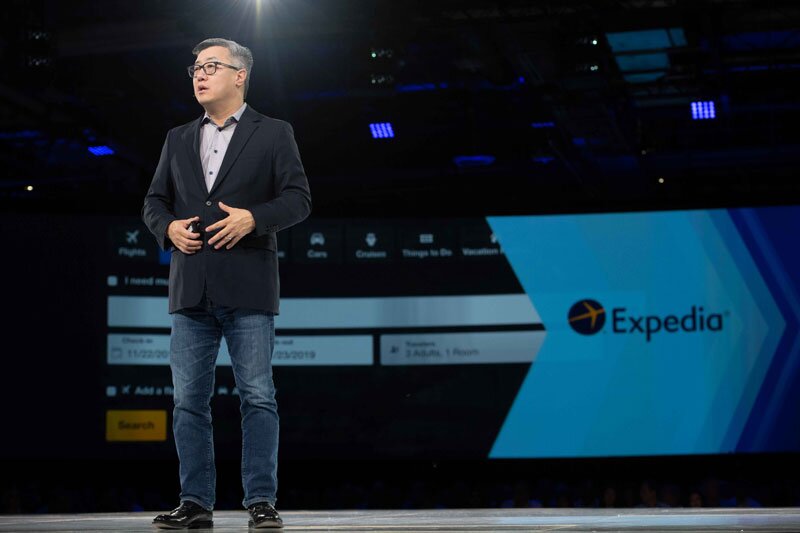 Expedia Explore 2019: Provide travellers with answers before they ask questions
Utilising AI can change the booking and travel experience 
Travel technology needs to answer questions travellers ask before they ask them by utilising AI.
John Kim, group president, platform and marketplaces spoke at the Expedia Group's 2019 Explore conference in Las Vegas and said: "AI allows us to think in ways that are quicker. But we need to get to the point where we are asking a question before it's asked. Amazon has announced its anticipatory shipping service where they are shipping before things have been ordered and are noting who is keeping products and who is returning them. As you think about this framework, it's within reason to ask if we can help travellers with their plans before they have issues.
"If you take all that information we already have on a traveller such as flight, hotel, who is travelling, date of travel, delays and even the weather when they travel and put it in front of a human, they can come up with ideas of how to change that experience for that traveller.
"Now imagine if there was a system that could execute these ideas for travellers, it is our goal to create this system. AI is a tool but humans still create the travel experience."
Kim told delegates at last year's conference that AI will complement humanity and said there is a debate as to whether AI is, "this generation's greatest opportunity or its greatest challenge and this has created an incredible amount of fear."
He said a study carried out by Chapman University which asked 1,500 people what their fears were, they found that people are more afraid of computers replacing people than they are of dying.
"Uncertainty creates fear and technology creates uncertainty", said Kim. "We need to replace uncertainty with understanding and how we leverage innovations to move us forward."