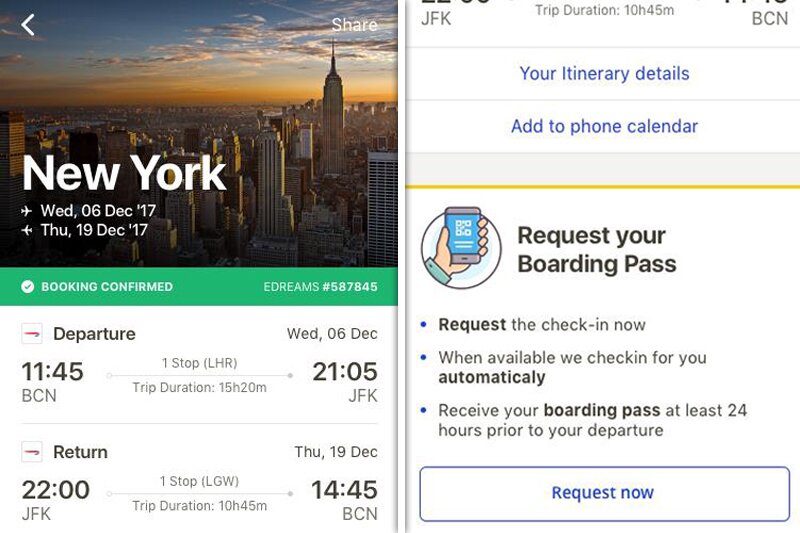 EDreams ODIGEO app enables automatic flight check-in
Company claims to be first OTA to offer service for free
A new mobile app feature enables travellers to automatically check-in for flights.
Users can request that boarding passes to be sent to them prior to travelling, as soon as check-in opens.
It is available across the eDreams ODIGEO brands eDreams, Opodo, GO Voyages and Travellink.
The company claims to be the first online travel agency to offer the service for free on its mobile apps.
The feature also helps travellers avoid airport queues at check-in counters, allowing them to go straight to luggage drop-off or security controls.
Other added-value services offered on its apps include real-time flight status notifications and an AR-powered hand luggage size checker.
The introduction follows consumer research which ranked the moments prior to departure, including checking in, as the most stressful part of travelling.
The feature can be requested any time after booking and is claimed to apply to 80% of the flights offered by the group's four brands, regardless of the departure dates and destination.
Chief product and retail officer Christoph Dieterle said: "Our mission is to make travel easier and more accessible for our customers, with as little fuss as possible so they can enjoy maximum flexibility and minimum worry.
"We are constantly listening to their needs and one of the aspects they value most is comfort and ease throughout their booking and travel journey, particularly during the check-in process.
"That is why we work to provide consumers with the best technology so that they can organise their trips in a hassle-free way, and enjoy their holiday."
More: EDreams ODIGEO mobile bookings growth 'outperforming market'