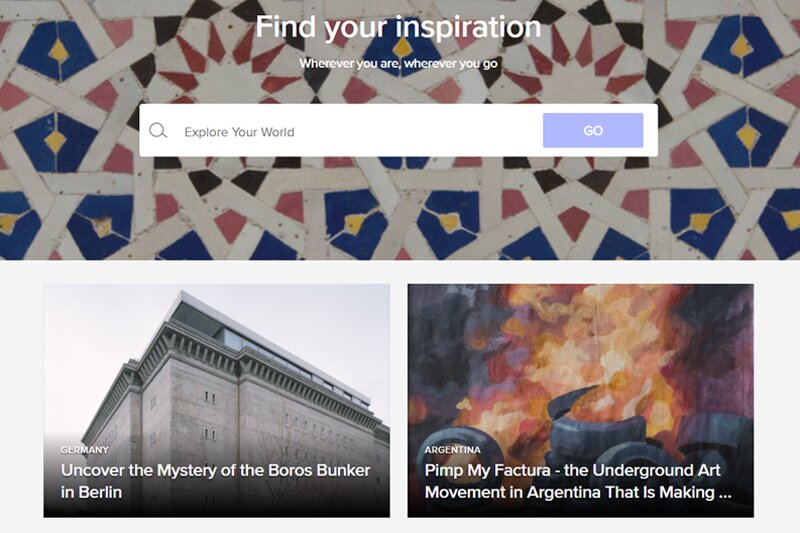 Culture Trip to launch OTA to drive millennial audience to travel brands
Firm aims to exploit 'inspirational stories and utility content' to drive business to partners Continue reading →
Culture Trip has unveiled plans to create an online travel division to connect travel firms with its millennial audience
The global technology company says it is targeting hoteliers, independent hotel chains, hostels, boutique hotels and experience providers.
The new venture is slated to launch this summer. Culture Trip claims 62% of its rapidly growing audience of 12 million unique monthly users were born between 1980 and 2000.
In contrast to traditional OTAs, Culture Trip says it will exploit its inspirational stories and utility content to drive business to partners.
The site has contributors in more than 300 locations.
Culture Trip content focuses on location-based inspiration and highlights local culture and creativity through a mix of articles, photos, videos, illustrations and animation.
Its website, app and social media channels travel, food, art, music, books, film through to fashion and design.
Dr Kris Naudts, founder and chief executive of Culture Trip, said: "As we work to build a one-stop platform for discovering the world's culture, online travel booking felt like a seamless and valuable addition to our user experience.
"We are really excited about the unique capabilities of our service in helping the travel industry connect with millennial audiences that are seeking unique adventures and experiences around the globe."
In a survey conducted among Culture Trip's audience, respondents said discovering new cultural experiences was their main motivation for booking travel.
The survey also found that 86% of Culture Trip's audiences were affluent and educated.