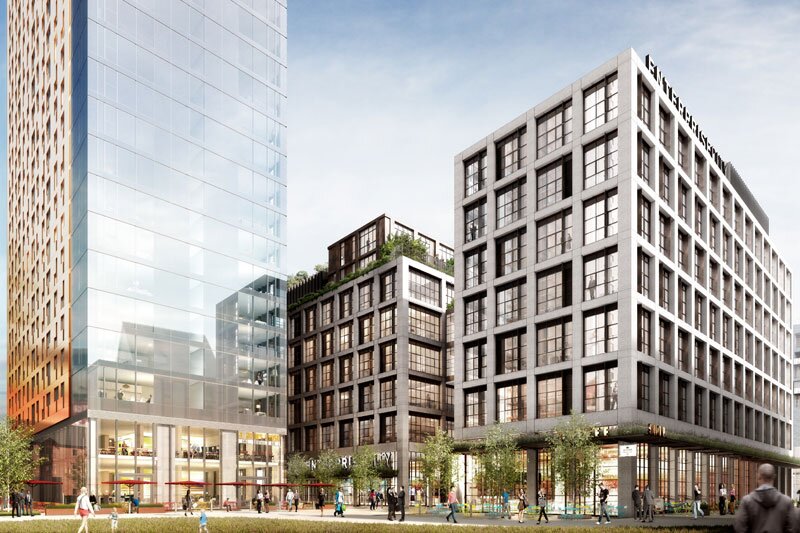 Booking.com announces £100m Rentalcars.com global Manchester HQ
Firm is looking to hire 200 new staff as soon as possible in addition to 75 already this year Continue reading →
Booking.com is to open a new global headquarters in Manchester's new St John's Quarter for its Rentalcars.com ground transportation division.
The move represents an investment of £100 million over the course of ten years and sees the firm becomes the anchor tenant of Allied London's Enterprise City tech campus.
The 12-year, 222,000 sq ft letting will provide the company with the space it needs to develop a set of ground transport products to help Booking.com customers.
Booking.com will re-locate its four existing city centre sites – home to more than 1,500 staff across 201 Deansgate, Sunlight House, and 35 and 42 Fountain Street – into the new building.
More than 75 new tech jobs in Manchester have already been created this year and the firm is looking to hire another 200 new staff as soon as possible. It plans to add many more over the next 18 months.
The new Enterprise City tech campus is set within the St John's regeneration masterplan on the site of the former Granada Studios.
Construction of Manchester Goods Yard will begin this year and is due to be completed in 2020. The office will be the second largest Booking.com location outside of its hub in Amsterdam.
Ian Brown, chief executive of the Booking.com transport division, said: "We are committed to the city of Manchester and to its future as one of Europe's largest and most important tech hubs. We plan to develop Manchester Goods Yard into one of the most exciting and dynamic workplaces in the UK.
"Our operations in Manchester form a critical part of our global infrastructure and we have big ambitions to grow here over the next 12 years. To do this, we need to continue to invest in our people, our offices and technology, and our local community – not least in education and enterprise.
"We're proud to be anchoring Enterprise City as it establishes itself as a hub for talent and collaboration between tech, media and creative businesses both large and small."
Sir Richard Leese, leader of Manchester City Council, added: "This a major vote of confidence in Manchester by a leading global name which underlines the city's attractiveness and will open up further job opportunities in our flourishing tech sector.
"As the anchor tenant in Enterprise City, Booking.com's ground transport global headquarters will also help stimulate Europe's fastest growing tech and creative hub."