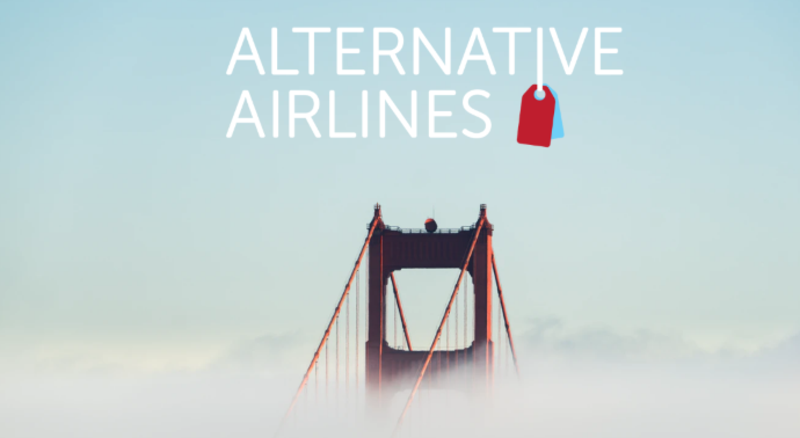 Alternative Airlines' best financial year beats pre-pandemic revenue total
Website says it is well on the way to achieving its goal of £100 million revenue by 2023
Flight search and booking website Alternative Airlines saw a two-fold increase in revenues in 2021, it best financial year to date.
The £28 million revenue earned was 197% up on 2020's £9.4 million and ahead of the site's pre-pandemic total of £18.9 million in 2019, the firm announced in a trading update.
It put the increase down to its international footprint, increased booking volumes as well as an enhanced ancillary product offering which has increased average order value.
Booking volume grew by 239% between 2020 and 2021 and 93% between 2019 and 2021.
Looking into 2022, Alternative Airlines forecast bookings to grow further as international travel continues to resume.
And the firm said it is "well on the way to achieving its goal of £100m revenue by 2023".
---
---
Managing director Sam Argyle said: "We're incredibly proud to announce that in 2021 we achieved our best ever financial year — testament to the resilience and adaptability of our team in overcoming the challenges presented by the coronavirus pandemic.
"We're reaping the benefit from our dedication to providing exceptional customer service, while developing innovative tech to optimise the online booking experience for our customers, giving them an easy, convenient and flexible way to buy flights, no matter where they are in the world."
Alternative Airlines said it adapted to the pandemic by driving sales in markets like north America where travel remained prevalent
And added its success was also thanks to its "relentless focus on optimising customer experience, airline content and the launch of new payment options, including 'buy now pay later'".
The firm added: "Despite the disruption caused by the pandemic, which has included numerous flight schedule changes, delays and cancellations, Alternative Airlines currently has an 'excellent' score and rating of 4.4 stars on the independent review site Trustpilot.
"This is a result of steady improvements that Alternative Airlines' customer service team has made to  streamline processes and continue to offer exceptional customer service.
"This includes investment in using technology to bring greater automation, such as the launch of a new self-service flight cancellation option, available via the site's 'manage my booking' portal, and upgrading customer support systems to more effectively manage customer communications."
Alternative Airlines' in-house tech team has also launched a number of projects to introduce more diverse and richer content, like Virtual Interlining (VI).
In partnership with Amadeus, VI enables Alternative Airlines to provide greater airline mix-and-matching capability, combining different carriers on one flight itinerary even when these carriers do not share an existing interline agreement.
"Alternative Airlines strives to provide a complete and personalised booking experience," it said.
"In 2021, the company developed its own seat map allowing customers to choose their preferred seat across hundreds of airlines, and has added additional re-assurance ancillary services including lost baggage protection, cancellation protection and automatic check-in.
"Customers can easily customise their booking to meet their needs and ensure that their flying experience is as convenient and stress-free as possible."
Alternative Airlines offers 600 carriers, more than 160 currencies and takes bookings from more than 160 countries each year.
It's financial updated stated: "Alternative Airlines has maintained an adaptable and fluid approach — targeting and switching between markets as travel restrictions have evolved.
"As a result, in 2021 the site increased bookings from a number of markets when compared to 2020, including Nepal (+58%), Mexico (+54%), Australia (+37%), Kenya (+30%), France (+24%) and Canada (+12).
"A particularly significant opportunity that Alternative Airlines has remained focused on has been to target domestic travellers in larger markets where internal travel remained prevalent despite international travel restrictions.
"In fact, over 85% of bookings over the past year were made in the US, the majority of which were for domestic travel.
"One way that Alternative Airlines continues to target domestic travellers is through a number of new 'buy now, pay later' (BNPL) payment plan options on the site. In its mission to provide greater convenience for customers, Alternative Airlines has long offered payment plans.
"The addition of more BNPL options on the site means that Alternative Airlines now offers over 40 worldwide and localised payment options, which also includes e-wallets and even cryptocurrency. This allows customers to pay in any way that they want, from anywhere in the world.
"Alternative Airlines has demonstrated its resilience and adaptability in overcoming the challenges of COVID-19. Having achieved its best ever financial year in 2021, Alternative Airlines is looking forward to continuing its growth in the months to come."