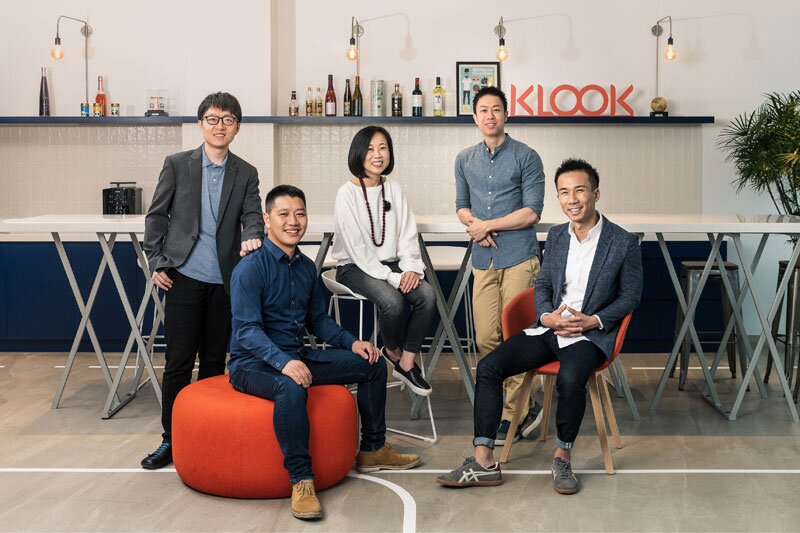 WTM 2018: Klook eyes US and Europe having proved tours and activities sector is scalable
Klook, the leading booking platform for tours, activities, sightseeing and local transport in the APAC region has set its sights on cracking the European and US markets.
Speaking to Travolution at World Travel Market this week, co-founder and chief operating officer Eric Gnock Fah said interest in what the firm does had been "phenomenal".
He said the firm, which was founded just four years ago, has proved the scalability of both the Asia Pacific market and the tours and activities sector.
"We are on track to hit our target of $1 billion of annual transaction revenues," he said.
"That speaks not just to the scale of the company but the scale of this industry as well as the potential of Asia Pacific.
"There were question marks, with people questioning whether it was really scalable, whether it was a big industry, can you build a billion dollar business out of it? We have proved, yes you can.
"Despite not being the first player globally, it turns out Asia has that sheer volume of market opportunity and it's going online faster than in the west.
"The largest ecommerce sites are now in Asia. We are bringing those learnings and different business models to the west."
Around 70% of Klook's transactions take place on mobile, compared to many travel ecommerce sites in the west that see just 20% or 30%, despite the high usage of mobile devices.
"In our space mobile is the game changer because people book on the go," said Gnock Fah.
Having raised $300 million, $200 million of which has come in the last 12 months, Gnock Fah believes Klook is well ahead of any rivals in bringing this lucrative market into the digital age.
Gnock Fah added: "It's about funding and talent. In the world of internet, mobile and ecommerce I believe it's no longer big fish eats small fish, it's fast fish eats slow fish. The company with the best talent and the most capital has the ability to win the market."
He said the key has been to focus on developing technology so Klook's many fragmented suppliers can offer and retail their products on its app.
Klook claims to offer more than 60,000 activities and services from over 6,000 partners in over 250 destinations globally.
"We have focussed on supply from day one," Gnock Fah said. "What we were looking for is how to grow the supply side with technology for operators to do business efficiently and identify more opportunities for them.
"If you go to Asia today no one mentions any other names. Many businesses have been serving the western inbound market to Asia but that's remained stagnant. Now growth is iin fact from millennials or Asian travellers.
"We have helped out suppliers attract the right, relevant audience for them and that as really made the difference in our business."
One of Klook's big supply partners is Big Bus Tours. "What's most important is the technology collaboration as well as the strategic partnership part.
"We are connected in to their API which allows us to access unique product not available to everyone. We are already sitting down with them to discuss how they position Big Bus for the Korean market using our insights.
"We look forward to having more of these types of really strategic alliances with large operators."
Instead of tour and activities, Klook likes to think of itself as a specialist in "in-destination" travel services all offered seamlessly on one platform so users do not have to worry about different payment types as they cross borders.
It says although travel is an infrequent purchase Klook's focus on local markets and people travelling regionally as well as in-bound holidaymakers means it has become a frequent purchase.
Gnock Fah said Klook will continue to operate locally in regions it moves into to understand the nuances of each market. "We provide day-to-day solutions and we look forward to bringing them to the merchants and the consumer at the other end, which is the mobile.
"I hope we will be able to make a splash on mobile but, of course, while understanding the uniqueness of the different markets."
The upcoming Tokyo summer Olympics in 2020 and Beijing winter Olympics the following year as well as next year's rugby World Cup in Japan are expected to further boost intra-regional travel in southeast Asia as well as more long-haul international visitors
And Klook feels it is well placed to take advantage of that as it grows is global footprint with bases in London, Amsterdam and Barcelona and one planned for a city, still to be decided in the US.
The firm already has 800 staff spread across 18 locations, and Knock Fah said the nature of the business means it is important that it has local presence in the markets in which it operates.
Gnock Fah said Klook's status now as a big player generated a lot of interest during WTM from potential partners in the aviation and marketing sectors who are interested in experiences rather than just "boring" flights and hotel.