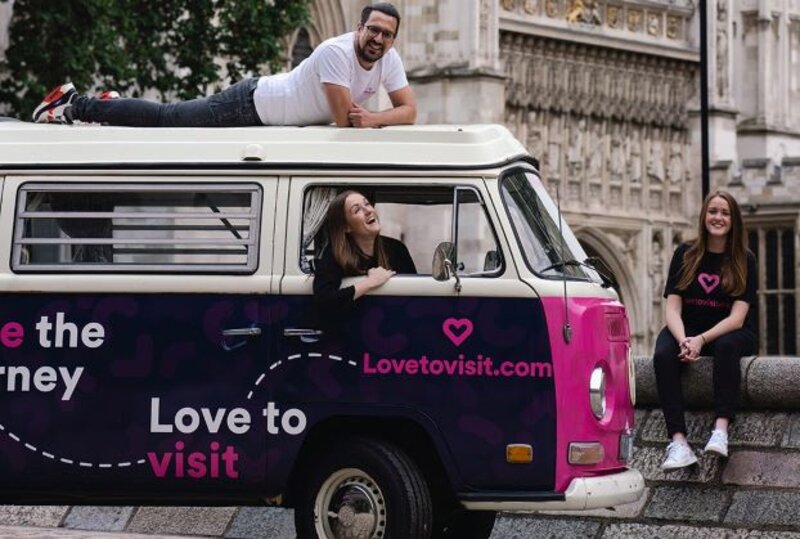 UK start-up Lovetovisit.com poised to launch after £3.5m investment in app
Founders say they expect to be generating three to five million users per month
by Avery Ketcherside
Cardiff and London based start-up Lovetovisit.com is preparing to launch its progressive tourism and culture mobile app in the UK this November.
To date, over £3.5 million has been invested in to developing the Love to Visit app.
Love to Visit allows customers to browse and book a range of UK attractions and events and will feature over 1,200 venues and experiences.
The founders say they expect up to three to five million users to visit the platform per month.
The app has ticketing integration and user-experience, and user-interface software which allows costumers to scroll, browse, and book in one place.
It will "micro-target" users based on location, recommending experiences based on the customer's whereabouts. Unique content has been created by an in-house team of journalists.
The app is the brainchild of co-founders Fed Pereira, Alice Aubrey, and Georgia Aubrey.
The leadership team has over 30 years of industry experience in marketing tourism businesses, notably building national marketing and communication agency, Pear.
Chief executive Pereia said: "Love to Visit is so much more than an aggregator site. Our commitment to user experience drives every decision on the platform to make sure audiences will love it.
"It's inspiring, fun, and easy to use – people will want to spend time on there. Finding things to do online is fragmented, time consuming and frustrating.
"We've solved that issue by pulling everything together in one place – think Airbnb, Instagram and Just Eat combined into one platform for the leisure sector, to help people make the most of their free time."
The platform caters to all budgets and all partners benefit as there is no cost to be listed on it.
Businesses only pay money when they bring in revenue. Organisations across the arts, tourism and culture sectors can promote themselves by going to lovetovisit.com and joining up.
The company has just completed a further round of seed-plus funding, which will be announced soon, and a US launch is scheduled for mid-2022.
Partnerships director Georgia Aubrey said: "We have tens of thousands of events already plugged into the platform, from over 1,200 free and paid for venues, attractions and experiences, with more being added every day.
"We're counting down to our consumer launch next month, and encourage both paid and free organisations across the arts, tourism and culture sectors to join us, promoting themselves to huge new audiences. Everyone is welcome to use Love to Visit".
Content director Alice Aubrey added: "Content is another way in which we are differentiating ourselves and making the platform fun and informative for our users, with our own team of journalists writing original, inclusive content that no-one else is providing.
"We're proud of what we've built and really excited for the launch."