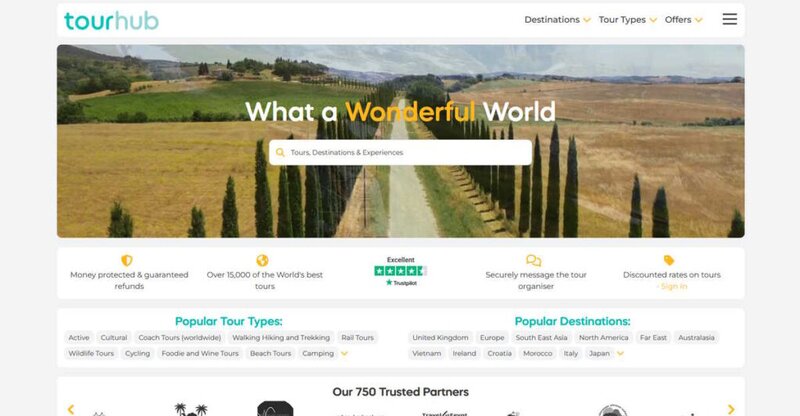 Tourhub attracts £1m investment
Funds to help platform expand globally
Experiential travel aggregation platform Tourhub has attracted a combined £1 million investment to help fund further expansion.
The capital injection into the Cardiff-based firm comes as it focuses on adding more touring operators, river cruise lines and expedition cruises.
Tourhub, established in pre-pandemic 2017, is also providing its technology and content to other travel agents and publishers - supporting The Times, Holiday Pirates, Barrhead Travel and 200 smaller travel agents.
More than half (60%) of the business is sourced from the US and Canada, with plans also to launch in Australia by the end of the year.
The investment is coming from venture capital firm Waterspring Ventures with £450,000 in partnership with £300,000 from the Development Bank of Wales' technology seed ventures fund and £250,000 from its angel co-fund.
The Tourhub management team of Seamus Conlon, Laurence Hicks, Rhodri Evans and Darran Evans have been involved in the creation and expansion of leading travel companies including cruise.co.uk, Wendy Wu Tours and Tigerbay technology.
Entrepreneur Evans has experience in the banking, travel and leisure sectors, grew Leisure Pass - now Go City - before selling the business.
Former Travelopia chief executive and Tui chief financial officer Will Waggott joined the board as chairman earlier this year.
Tourhub chief executive Seamus Conlon said: "We set up Tourhub because we could see the growth of experiential travel and cultural holidays, but there was a need to bring it all in one place for travellers.
"We offer everything else but the standard, traditional beach package holidays. With close to over 800 worldwide suppliers, we provide you with whatever you dream of - from seeing snow monkeys in the Japanese Alps, hiking around 18 national parks in America, to cycling tours across Vietnam - we have something for every type of adventure seeker, no matter what your age."
Aided by the current boom in experiential travel, Tourhub offers holidays that lend itself to inspiring visuals and content, an aspect the founders wanted to leverage.
Conlon added: "We know the world is consuming more and more social content each day, from TikToks, reels, shorts and stories.
"How people search and find holidays is changing - now they see one amazing video of someone's trip and they want to book immediately. So it was important for us to make the most of that.
"We've created a community of content creators and travel gurus who showcase their adventures online and share insider knowledge, inspiring others to book with confidence."
Founder director Hicks said: "Our underlying message is that experiential travel is back into growth mode and this investment is evidence that there is huge confidence in the sector
"Key milestones are Seamus Conlon investing and joining the team as CEO, surviving Covid unscathed, Will Waggott investing and joining as chairman of the board, acquiring circa 800 worldwide suppliers/operators, blue-chip business - Barrhead, Sunday Times, Holiday Pirates, etc - white labelling our technology and now this major investment."
Waterspring Ventures founder and managing partner Sam Huxtable said: "We're delighted to be investing in Tourhub. The team astutely spent the pandemic laying the foundations on the tech and operational side of the business, whilst developing existing and new relationships with big and small tour operators around the world.
"Numerous members of the team have also led, built and exited businesses in the travel industry previously. This collective experience was a strong attraction for Waterspring Ventures and we are excited to work together going forward."
Tom Preene, operations manager for Angels Invest Wales, added: "This latest funding round is testament to our commitment to working with exciting firms like Waterspring Ventures and business angels like Darran Evans as our co-investors, giving Tourhub the platform to scale-up globally from their base here in Cardiff."