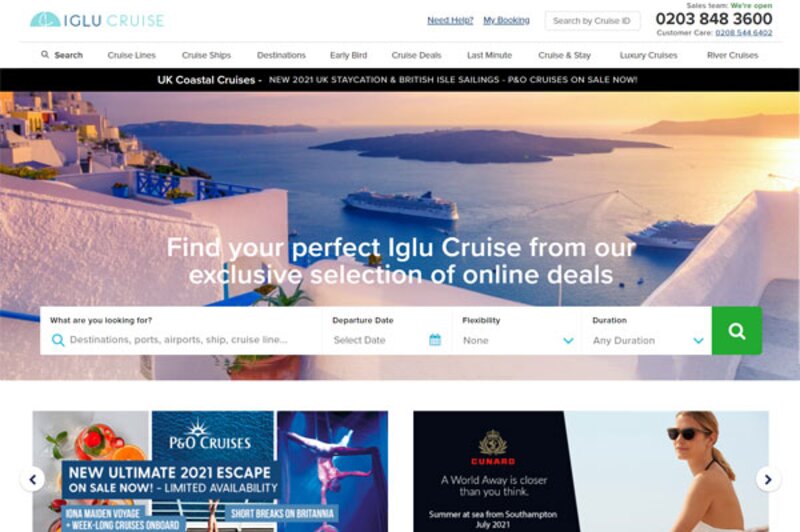 Ski and cruise specialist OTA iglu.com launches recruitment drive
UK-based agent is looking for 40 consultants ahead of 'busier summer'
Iglu is looking to hire up to 40 new cruise sales and customer service staff as part of a recruitment drive to ensure the OTA is prepared for "a busier" summer.
The cruise and ski specialist, which has offices in Wimbledon and Portsmouth, where its Planet Cruise business is based, has become "leaner" and "a better place to work", said Simone Clark, senior vice president, global supply.
In 2020, the firm had 400 staff but was forced to make redundancies as it looked to cut costs by 40% to 50% to weather the impact of Covid-19.
Now Iglu is looking to fill roles across several departments including cruise sales, customer service, marketing, IT and commercial.
Clark said: "We want to bring people in over the next few months to help service the guests. We are looking at bringing eight to 10 [cruise] consultants a month so a gradual growth plan."
She added successful applicants would have solid cruise industry knowledge but explained that anyone with "fast-paced experience", selling tailormade holidays, could fill a sales consultant role at Iglu.
"If they can offer good customer service from another industry we can provide [cruise] experience," she added.
Clark predicted a "busier" summer ahead, but noted: "We want to be prepared for it and offer a good service.
"It's about freeing our sales team up, focusing on new business and offering customers the best service."
Clark admitted there would still be "quite a deficit" against pre-pandemic staffing levels, due to cuts to the international team, despite the recruitment drive.
While Iglu is only currently selling in the UK, it plans to restart sales in the Spanish, Italian, French and Irish markets 'as soon as possible'.
The OTA stopped promoting river cruises last year, due to staff shortages, but now plans to market them again later this year, "when the time is right", said Clark.
She added: "We had to make a lot of redundancies with a big cost-cutting in 2020. We had to come back as a more streamlined efficient business, so behind the scenes we've worked on tools to make it more streamlined and make it a better place to work in."
Clark said there had been "a shift" in booking levels at the turn of the year as the UK government scrapped pre-departure tests for those travelling into the UK, and on-arrival tests for the fully vaccinated.
"We had a lot of growth, and the main area was sailings out of Southampton because of the restrictions," she said. "In the first couple of weeks of January we saw a shift once the restrictions were removed."
Mediterranean fly-cruises departing in the spring and summer were proving popular with customers, but Clark admitted bookings were "nowhere near where they needed to be".
"We can see what people are searching for and the family market is not where we would like it to be," she explained. "We've seen time and again when the government lessens restrictions, booking will rise."
But she added: "I don't think it will be a record-breaking year – hopefully next year. We're not getting carried away. We're just building good foundations."