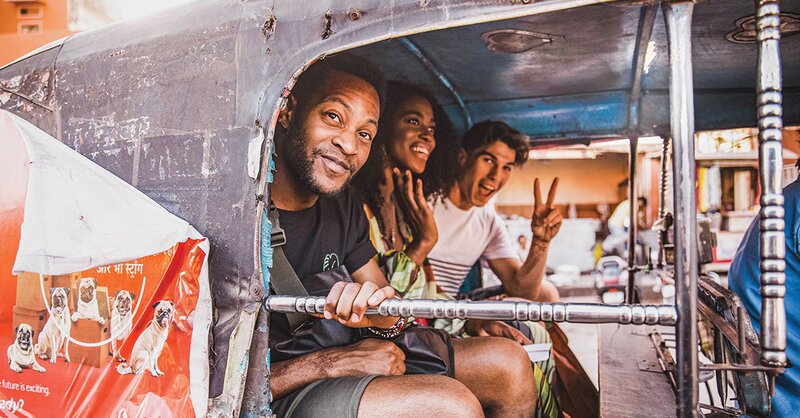 Online youth tour operator Contiki rebrand reflects social travel and sustainability
The Travel Corporation business has reached its goal of becoming carbon neutral
Contiki has repositioned its brand to reflect the social travel and sustainable needs of the youth market.
The operator's brand refresh comes as it reaches its target to become carbon neutral.
The brand's bold new 'hero image', featuring a toy green dinosaur in the foreground and a group of young people in the background, will be used across its website and social media channels.
The aim is to position the brand firmly as a tour operator providing 'fun, social experiences and sustainability' for the younger market in the way it communicates with its customers.
Its new brand identity hopes to reflect optimism for travel catering for the needs of Gen Z and millennial travellers, according to the company, and uses the colour green to represent a bright, proactive and sustainable future.
Chief marketing officer Simon Llanos said: "During these strange times, we took some time to really understand what our travellers will want when the so-called 'new-normal' arrives.
"We thought about our position and how we communicate social travel, something the world has dearly missed."
The refresh focuses on "sharing incredible experiences, with brilliant people and a sense of fun, humour and community", according to Llanos, who said: "We really feel we've bottled this feeling with our lively new brand evolution. We can confidently say: 'we look how we feel'."
Llanos said the pandemic had brought the importance of the global community into "significant focus" and formed part of the thinking behind the refresh.
He added: "The evolution firmly places community at the heart of everything we do at Contiki, it expresses the emotional excitement of sharing your first travel moments with new friends from across the world.
"For 2022 and beyond, we live by our brand philosophy of 'Travel. Together.' which means to travel with one another, the cultures we enjoy and the environment, too."
The use of what the company calls 'Contiki Green' in its imagery is deliberate as the brand becomes more sustainable and takes on "a new kind of green".
Sustainability officer Tasha Hayes said: "Contiki trips are intelligently designed to be 100% carbon neutral but sacrifice none of the fun or wonderful experiences to achieve this.
"We know that sustainability is incredibly important to our travellers but so is a complete travel experience and having a great time; we've looked at everything from our processes to communication to bring in line with the 'new kind of green'."
The refresh comes as Contiki plans to continue to expand worldwide in the 18-35 year old travel market during 2022.
Chief executive Adam Armstrong said the operator's market was ready to start travelling again this year.
He said: "In the last 2 months we've really started to see encouraging signs of a meaningful recovery. Our travellers are resilient, confident and eager to resume their travels.
"We've developed this exciting new positioning with their help – and we look forward to welcoming them back to social travel with Contiki this year."