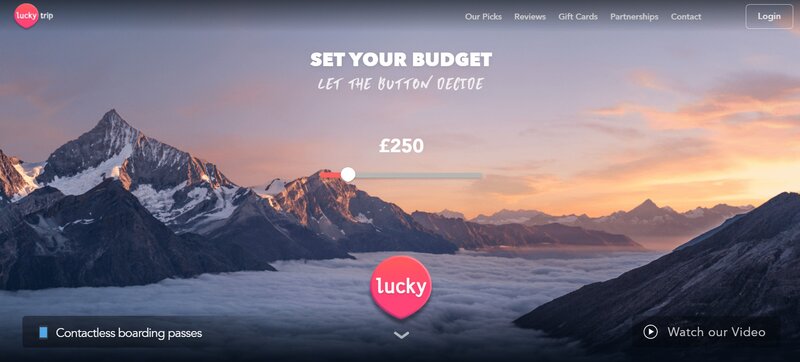 Lucky Trip to 'put foot on the gas' after pandemic recovery
OTA start-up says Q1 has been 'unbelievable' as demand returns post-pandemic
Holiday inspiration OTA LuckyTrip is completing a seed-plus bridging round of funding having seen impressive recovery from the COVID-19 pandemic.
The start-up says it is now trading at 30% above pre-pandemic levels and bookings and revenues are growing 20% month-on-month with its budget-based 'Find A Trip' concept.
Kirk Flitton, chief commercial officer, said despite having to hunker down for two years during COVID, the firm was lucky to have secured £1.5m seed funding in August 2019.
He said this allowed it to look after its customers during the pandemic while it prepared for the return of demand among its mainly millennial and Gen Z clients.
The 2019 seed round exceeded its target by 500% and Lucky Trip now has one million users and has just hit the 55 million mark for taps on its 'lucky button'.
"It's been an exciting start to the year," said Flitton. "We were intending on raising a Series A at the back end of 2021 but we've stretched our runway as much as possible.
"During the pandemic we hunkered down on product and CS processes, plus saved money saved money where we could to make sure we were in the best position to pick things back up again.
"We put a stop to marketing fairly early and made sure if someone was due a refund they got it in 14 days.
"And, also, if anyone was in trip we made sure we got them back as successfully as possible. Our customer service team did an amazing job.
"During the pandemic we saw spikes around government news, but it was quite often short-lived and when omicron hit we were worried about how long that was going to last for.
"But, for us, Q1 has been unbelievable and we have decided to raise a bridge round of funding to let us step on the gas from a marketing point of view to take advantage of the growth we have been seeing."
LuckyTrip already has £350,000 committed from existing angel investors. Two industry investors, former Skyscanner director corporate development and now ClearScore chief executive and Andy Sleigh, and former Rentalcars Connect managing director Fraser Ellacott have come onboard as advisors.
It is now about to open for further investment from its 2,000 Crowdcube backers who came in on the original seed round and Flitton said he hopes to raise around £500,000 in total.
"One of the big things that's helped us is 85% of our audience are under the age of 35 and the millennial and Gen Z audience are quite risk averse. As soon as they can travel they will."
Flitton said LuckyTrip saw the shorter city trips come back initially but that now people are starting to book their main holiday of the year in the summer.
And he said the concept of finding a trip based on a pre-set budget is resonating with customers looking for inspiration and the shorter booking windows the sector is seeing.
"Our budget-driven search concepts has helped us. People have been booking two or three nights in European cities.
"We have noticed a shift to Western Europe since the war in Ukraine started, but people are just desperate to get away and now durations are starting to grow."
LuckyTrip is continuing to offer flexibility to its customers and is about to launch a new insurance product which Flitton said he believes will be one of the strongest in the market.
The site has also increased opportunities for users to customise their experience by offering more options, although it does not intend to become a more traditional OTA.
Flitton said simplicity is LuckyTrip's USP and while it has resonated with a younger audience he expects it to be discovered by older holidaymakers.
"We have had trips booked by people in their sixties. But I think the fact we were created with a younger audience in mind make us very different from a traditional travel agent."
LuckyTrip was a pervious member of the Founders Factory start-up accelerator where it spent six months forging a partnership with easyJet.
That relationship still exists but after the budget carrier launched its own standalone Holidays division more as an affiliate. It also works with O2 as a Priority Customer partner.
Flitton said LuckyTrip will be experimenting with new marketing channels having found success with Instagram and Facebook in the past.
The firm has been testing paid search in recent months and also plans to launch its first paid influencer campaign on TikTok as it looks to keep its cost of acquisition low.
"Our cost of acquisition is around 60p to 70p, a lot lower than the industry average," Flitton said. "We've had a lot of success from influencers in the past."