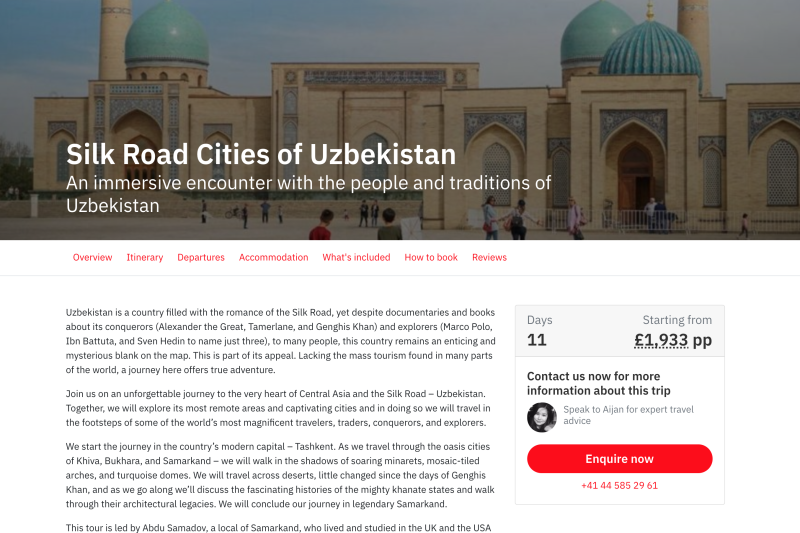 Horizon Guides offers direct-marketing solution for tour operators
HorizonLabs designed to maximise conversion rates for SMEs
Digital travel guide provider Horizon Guides has launched a direct-marketing solution for tour operators and specialist accommodations in a bid to boost their marketing return on investment.
HorizonLabs is designed for medium-sized multi-day travel businesses. It provides templated itineraries and landing pages to maximise conversion rates from marketing traffic such as pay-per-click (PPC) ads.
It offers an itinerary builder with day descriptions, accommodation and trip inclusions; interactive route maps with destination content pulled from Horizon Guides; product listings with search and filters and integrations with some third-party booking software and CRM tools.
Horizon Guides says website conversion rates "hover around a measly 3%" for most businesses in the sector.
"It's common to see an overall cost per booking from pay per click ads of $1,000 and up, thanks to a combination of a high cost per click and poor conversion rates," said founder Matt Barker. "All other things being equal, doubling the conversion rate can cut the cost per booking in half, making PPC a viable channel for many operators who are otherwise reluctant to make the investment."
He added: "Conversion rate optimisation (CRO) is usually the preserve of bigger brands with more resources and audience data. The new solution from HorizonLabs brings enterprise-level, high-converting page templates to travel companies of all sizes."
HorizonLabs' landing pages and itinerary builders have been developed at parent platform, Horizon Guides. They can now be integrated with any website and customised.
Pages are most commonly used as microsites to receive pay-per-click and other marketing traffic. They provide a zone that is "more aggressively optimised for conversions, without diluting the brand on the main site", said Barker, who added: "They can be used to trial new products, or for price promotions that are hidden from the main site."
The software is accessed on a SaaS basis, with pricing starting at £99 per month. Existing users include Kalpak Travel, Odyssey Safaris and 3E Travel.