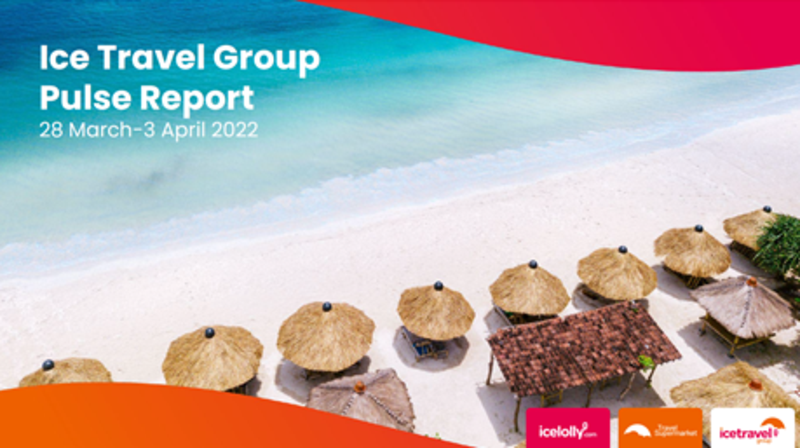 Holiday searches on icelolly.com and TravelSupermarket focussed on April to July
Ice Travel Group brands see rising demand and bookings for spring and summer
Searches for travel between now and July continue to dominate on leading holiday comparison sites icelolly.com and TravelSupermarket.
The three months leading up to the traditional peak summer travel period occupied the top three searched-for departure periods on both sites.
Parent, Ice Travel Group, said it continues to see week-on-week increases in both search volumes and bookings in its regular Pulse trends tracker.
Chris Webber, head of holidays and deals at Ice Travel Group, said: "There continues to be increases in the number of people searching for - and booking - holidays each week across icelolly.com and TravelSupermarket.
"Travel between now and the end of October is the focus for almost all searches and bookers, with around two-thirds of searches covering travel between April and July 2022.
"As more and more people are focusing on summer travel, destinations like Majorca and Costa Blanca are trending upwards, while city break destinations like Paris, Amsterdam and Reykjavik are less favoured."
On icelolly.com, May 2022 strengthened its place at the top of the most-searched departure months. Meanwhile, May 2023 saw share increase by around 18% to enter the top 10.
On TravelSupermarket, the largest increase in search share in the week to April 3 was for April 2022 travel, the month accounting for close to a quarter of all searches.
Icelolly.com destination data saw Crete gain further share during the week, with an increase of around 18%. Outside the top 10, Paris, Amsterdam and Reykjavik all lost share as people focused more on summer travel.
On TravelSupermarket, there was a significant increase in search share for Majorca, while Costa del Sol, Algarve and Mexico all lost share over the seven-day period.
In terms of bookings made summer 2022 dominated across both websites, though slightly more on icelolly.com. Around 10% of TravelSupermarket users are looking beyond October 2022 for their next holiday.