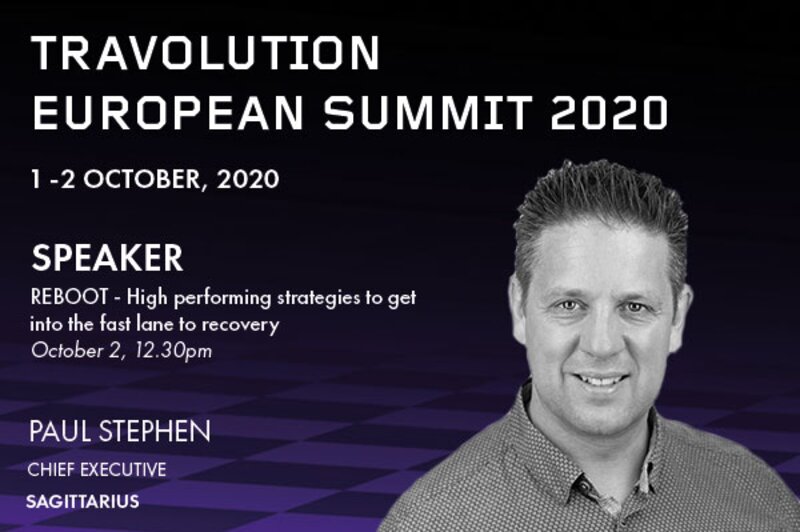 Travo Summit 2020: Using digital transformation to build back bigger, better, faster
Sagittarius's Paul Stephen said firms must look for their rough diamonds to drive recovery
Travel firms should look for what their strategic reboot might be to build back bigger, better and faster after the COVID-19 pandemic.
Paul Stephen, chief executive of digital agency Sagittarius, told the Travolution Summit that analysing and augmenting data can uncover the "rough diamond" within any business.
The travel, tourism and aviation industry is one of the sectors tipped by the World Economic forum to be primed to most benefit from digital transformation, Stephen said.
Of the $705 billion of value it is forecast to create to 2026, the sector is expected to account for $305 billion of that.
Stephen added, while 52% of firms have said they will defer investments due to COVID, only 9% will be cutting from investments in digital transformation.
However, with only 16% of executives saying that digital transformation is really working, Stephen said there is a big prize to be had for firms that focus on what they want to achieve.
Likening digital transformation to motor sport, Stephen said: "You can't just have the most powerful engine you also need the best brakes, you need the best suspension and the best tires.
"And they all need to be working in harmony with each other. And then finally, even if you've technically got the combination right of all those tools you need to get the human element right."
Stephen said travel has taken a significant hit due to the pandemic but not all businesses and not all sector have been impacted equally.
"Other people have taken advantage and certainly some of the brands we've been working with have taken a step back and used this opportunity to prepare for what's going forward.
"This is a very much a reboot. For most businesses it's a strategic reboot, so maybe not the year you planned for but maybe the year to plan for that exciting new future.
"When we talk about digital transformation it's really important that everyone focuses on what you're doing, what you're trying to achieve and what the objective is."
He added: "It's about high-performance strategies and getting into the fast lane. What people want to know in terms of how they use their is how do I go bigger, better and faster."
Stephen said data is any firms' most valuable asset, but it must be augmented with insights into their potential audience from social listening.
He said investment in big data has been cited by Boston Consulting as the number one response to COVID, but that still many firms are struggling to make sense of unstructured data.
"you need to enrich that data to give you that voice of the customer. Right now people are being more outspoken than they've ever been and that can supplement the quantity of data you've already got.
"And when you've got that data, you need to bring it to life, decide what are the KPIs that are important to you.
"You need to take that dashboard and make it sing so it's something that people can see it's something you can build and on it's the sort of stuff that will really galvanise the team and help you drag yourself out of this state that we're in right now."
Stephen said the COVID pandemic has changed consumer behaviour forever and so for firms to be better at what they do they must acknowledge that in their customer experience.
"This pandemic has created the largest change in human behaviour, one could argue, since the industrial revolution.
"The way it's changed and it's accelerated everything not just technically but just the way that we behave and our attitude towards it. Even the biggest Luddites in the world have had to learn new ways of working.
"And that genie's out of the bottle. People expect this. It's never going back we are never going back to the old normal."
Stephen added: "We have to get more with less. How can you win more with less? The answer is optimise optimise optimise.
"You've got very few people coming in at the moment, you need to be making sure absolutely every step of the way you're not leaving any money on the table.
"It doesn't need to be too complicated. You need to start small, work out where those bottlenecks are and decide what that should look like.
"You need to trial lots of different ways of trying out new landing pages, new product etc without loads and loads of engineering cost. Trial them then rinse and repeat.
"And every step counts. Optimising all on the way is brilliant. It's not just about getting your homepage and landing pages right.
"There are issues that have been there for a long time. It isn't just the COVID thing…but these things are now even more aggravating."