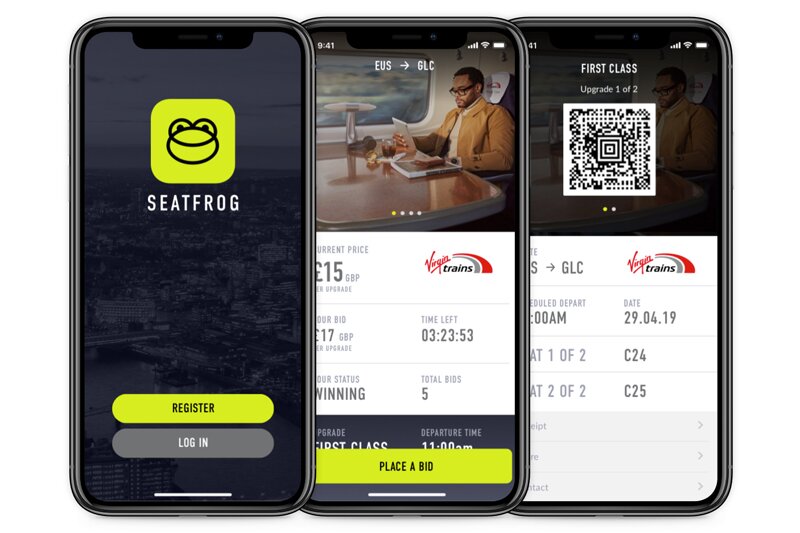 First class upgrades on Virgin Trains to be offered by Seatfrog
Upgrades start at £10 and available until 30 minutes before departure
Travel upgrades app Seatfrog has struck a partnership with Virgin Trains for customers on the west coast mainline.
Virgin Trains customers can now bid for a last-minute upgrade to First Class across the whole of the west coast network on the Seatfrog app.
Upgrades are available from 24 hours right up to 30 minutes before departure from just £10.
Seatfrog said research has found 15% of Brits have tried and failed to blag an upgrade.
The top reason for Brits wanting to upgrade is additional leg room (62%), followed by getting better sleep (47%) and having access to better food (39%).
The research found that while the UK public would love to upgrade when travelling (79%), most don't think they can afford to do so (67%) and half admit they don't know how to go about getting one (54%).
Seatfrog allows travellers to bid on deals for empty seats in First Class. Customers can also grab a deal when upgrading their group bookings.
Customers who successfully bid on First Class tickets have their upgrades issued to their phone in seconds.
Sarah Copley, executive director, commercial, at Virgin Trains, said: "This is a great opportunity for our customers who fancy treating themselves at the last minute.
"This new partnership with Seatfrog is another example of our strong record in innovation – giving customers a unique chance to enjoy our First Class experience, which includes complimentary food and drink served by our amazing on board teams from our award winning menu."
Iain Griffin, co-founder and chief executive of Seatfrog, added: "At Seatfrog we're all about taking people's journey beyond the ordinary and making it something special.
"Millions of first class seats sit empty each and every day and we want to liberate these, while at the same time helping passengers fall back in love with travelling by train.
"Our partnership with Virgin Trains is just the latest stop as we rapidly expand across the UK and Europe, giving more travellers the opportunity to upgrade their trip."