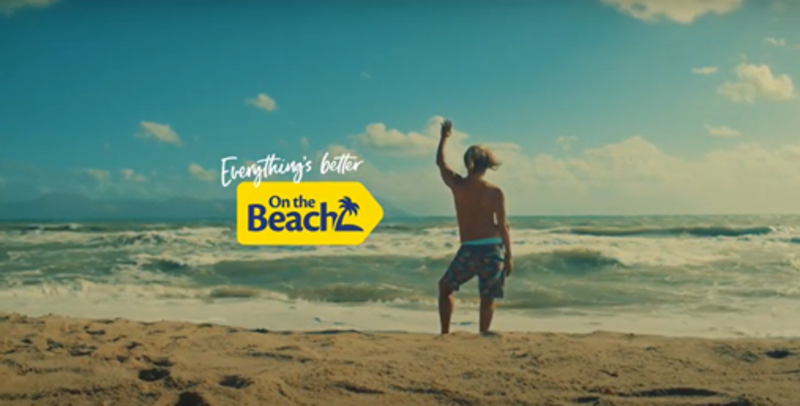 Green list demand surge but On The Beach keeps summer off sale
Immediate impact on search data reported by comparison sites iceololly.com and Skyscanner
Yesterday's expansion of the green list countries that Brits can travel to without having to quarantine has prompted an immediate spike in demand.
But leading OTA On The Beach says the move has not persuaded it to reverse its decision to take the summer off sale amid continuing uncertainty over the near future.
Holiday and travel shopping sites icelolly.com and Skyscanner both reported an immediate impact after Med hot spots Malta and the Balearics, and Madeira all turned green.
However, only Malta is officially green, with other destinations placed on a green watchlist meaning they could refer to amber depending on COVID-19 infection data.
Following the change On the Beach it will not yet take new bookings for holidays this summer.
The OTA recently launched  a new TV advertising campaign with a new voiceover recorded by Iggy Pop explaining its decision to not sell holiday for departures in June, July and August.
---
---
Founder and chief executive Simon Cooper, said: "We want nothing more than for travel to return in a sustainable way and to help our customers get back to the beach for a long-awaited and well-deserved holiday.
"However, with the exception of Malta, the countries that have been classified as Green destinations in the most recent announcement have been put on a Green watchlist meaning they could revert to Amber at any time – equally as could Malta given Portugal's switch from Green to Amber earlier this month.
"Booking a holiday to these destinations is not a guarantee that you won't have to self-isolate when you return home.
"The EU's pending decision on blanket quarantine for UK citizens brings with it another set of questions, the answers to which may bring further complexities and unknowns for holidaymakers and travel companies.
"While this uncertainty continues, we will continue to not sell holidays for July and August until we have greater confidence these holidays will go ahead with minimal disruptions.
"We will keep this under ongoing review, particularly with the news that the rules will change for people that have been double vaccinated."
A snapshot update on search activity on hotel comparison site iceololly.com revealed all mainstream destinations that went green saw big and immediate rises in search share.
In the immediate aftermath of the announcement, Majorca rose by 125%, Ibiza and Malta by 277% and 229%, respectively, but Madeira topped the lot on 340%.
There was a big share of search shift towards travel next month, with July 2021 share increasing by more than 100% vs the previous day.
June and August 2021 both also saw share gains, with departure months in 2022, which had been growing in recent weeks, losing share.
---
---
Chris Webber, head of travel deals at icelolly.com, said: "Searches spiked significantly following the announcement of what destinations were going green when it eventually arrived last night.
"Those destinations added to the green list – notably the Balearics, Malta, Madeira and Barbados – all had big share of search gains but also substantial search volume increases, too.
"Majorca shot to the top of the most-searched list with a 360% increase in searches, while Ibiza went into second as searches grew more than 670%.
"There was a big shift in attention to July 2021 travel, too, with that month becoming the most-searched. It's evidence of that pent up demand and people jumping at the chance to get away — seemingly with a "the sooner, the better" mentality.
Skyscanner has released data on the most searched destinations by volume over the past 24 hours with Ibiza taking the top spot.
Ibiza

Palma Majorca

Luqa

Valetta

Menorca

Madeira

Malta

Everywhere

New York

Bridgetown
The metasearch site also released the below data on the change in search volumes versus the previous day for selected green list destinations: 
UK to Portugal +165%
UK to Madeira +1749%
UK to Palma Majorca + 690%
UK to Menorca +824%
UK to Ibiza +845%
UK to Malta +809%
UK to Barbados +1200%
UK to Bermuda +982%
OTA Thomas Cook reported traffic to its site increased tenfold within an hour of the green list announcement and twice the level it saw after the Portugal announcement
On Friday traffic volume was three times the level it was last Friday and he brand said it sold more holidays to the Balearics in the past 24 hours than in the rest of June put together.
Majorca was its number one seller, with Ibiza and Malta in second and third and most bookings were for immediate travel or first week of July with others later in the summer and into September
Chief executive Alan French said: "Confidence is returning for last-minute breaks to the Balearics which is great to see.
"As we stare down the barrel of a weekend of grey British summer weather I am sure people will opt for a change of scene and reserve their place by the pool in the hotels of Majorca and Ibiza.
"It would really help our customers if we could provide them with clarity on when their vaccination status will mean they won't need to isolate if they book am amber list country and we would urge the government to make an announcement very soon to enable that to happen.
"Europeans from July 1 who've had two jabs get to travel freely around the continent and it would be good for us to have the same benefit so families can get their much-needed weeks in the sun."
Nicholas Cooper, commercial partnerships supervisor UK and North America at HolidayPirates Group, said:
"We are delighted today to see that these islands have been added to the UK's list of green 'watchlist' destinations.
"The Balearics, Madeira and Malta are important destinations for HolidayPirates' users. We were the pioneers in promoting Malta for this summer season by launching our very first campaign with the Malta Tourism Authority on June 11.
"We have always been convinced that Malta would be a key player in this industry recovery and we also relish the prospect of discovering the best deals for Madeira, the Caribbean Islands and the crucial core holiday destination of the Balearic Islands. "
The traffic light update prompted carriers to pile on capacity to green list destinations, including Europe's largest airline Ryanair.
The budget airline announced 200,000 extra seats from the UK to Malta, Ibiza and Palma in July, August & September.
Ryanair called on transport secretary Grant Shapps to immediately add Cyprus, the Canaries and the Greek Islands, where COVID case rates are equally low.
The airline has launched a seat sale with fares available from just £19.99 for travel until the end of September 2021 for bookings by midnight Sunday, June 27 on Ryanair.com.
Ryanair director of marketing and digital Dara Brady, said: "This announcement is a small step in the right direction and while we welcome the addition of Malta and the Balearics to the UK's green list, we urge the Government to immediately add equally safe destinations such as Cyprus, the Canaries and the Greek Islands, and also to immediately allow vaccinated UK and EU citizens to travel freely between the UK and the EU without restrictions.
"We are pleased to announce 200,000 extra seats to Malta, Ibiza & Palma throughout July, August & September. UK families can book a well-earned summer holiday safe in the knowledge that if their plans change, they can move their travel dates up to two times with a zero-change fee up until the end of December 2021."