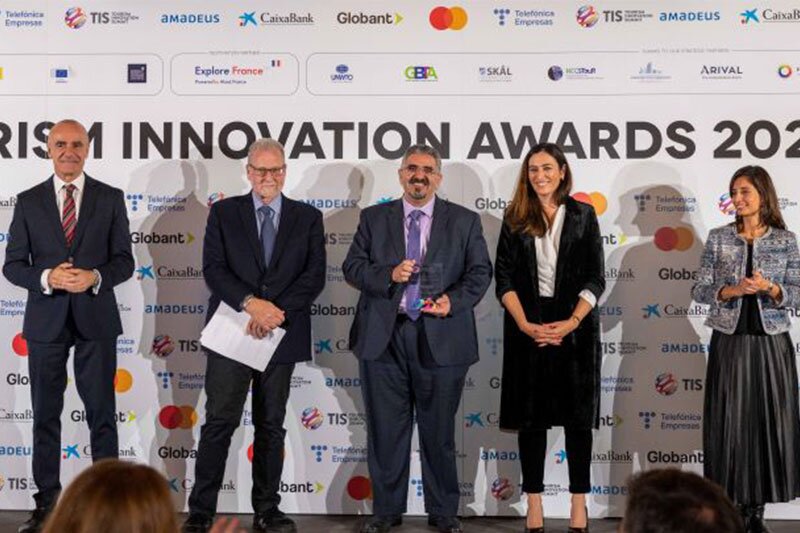 TIS 2021: Innovation and sustainability projects honoured in tourism win awards
The second annual Tourism Innovation Summit took place in Seville, Spain, this week
Travel projects that are a response to technological and sustainability challenges were honoured at the second Tourism Innovation Summit in Seville this week.
The Tourism Innovation Awards 2021 took part last night during the three-day trade event.
They sought to recognise ideas and projects responding to current challenges in tourism sector and aimed at boosting the competitiveness of companies.
MSC Cruises received the Telefónica Award for the Best Customer Experience for its MSC Starship Club project.
This features a robotic humanoid bartender that offers its best cocktails, revolutionising the traditional bar experience.
The finalists in this category were NH Hotel Group for innovating the hotel lobby experience and TUI Musement for its hyper-personalisation project.
Galgus won the Amadeus Award for the Best Innovation in Artificial Intelligence and Data Analytics for its solution capable of locating and tracking most devices in the surroundings of a WiFi Access Point (AP), without the need to connect to the network.
Also competing in this category were the Ministry of Tourism of Saudi Arabian, for its tourism intelligence centre (TIC), and Planet Happiness, an index of destinations' monitoring the well-being of local inhabitants.
The CaixaBank Award for the Best Digital Innovation went to a project by Fusió d'Arts Technology (Visualfy), for its social work in creating technological solutions for accessibility in public and private spaces for deaf and hard-of-hearing people.
OD Hotels was a finalist with its art project of unique digital works with NFT technology, and We Travel Hub, which supports travel content creators.
Garden Hotels' project to convert waste into organic compost, to produce fertiliser for agriculture in the Balearic Islands, won the Mastercard Award for the Best Sustainable Tourism Project.
The operator competed with Outdooractive's initiative to unify legislative information against natural damage in destination, and with Singular Places for its management of sustainable travel.
Cruise Saudi received the Globant Award for Best New Business Model. Its project was up against UpStay's automated upselling solution and Sharify's collaborative map of events and leisure options.
Finally, the Tourism Innovation Awards 2021 awarded a new prize aimed at recognising collaboration between international tourist destinations to promote a new, more sustainable, digitalised and innovative tourism model.
Seville and Barcelona won the City Sightseeing Worldwide Award for Partnership between Destinations.