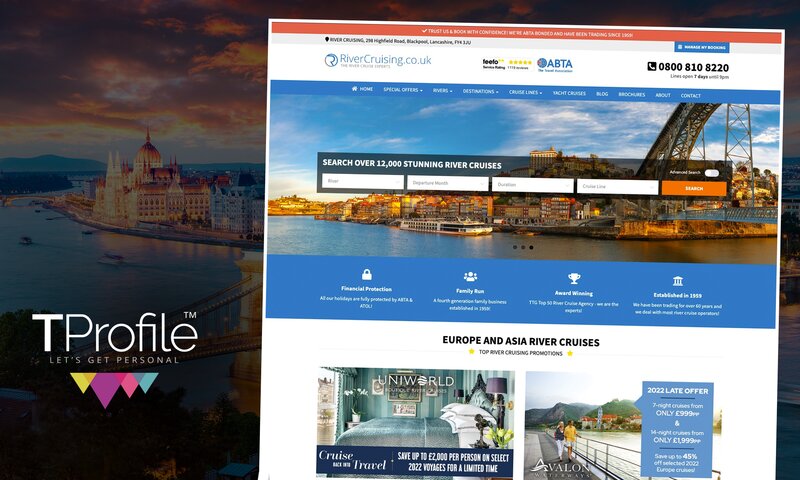 The Travel Village launches river cruise website as part of TProfile tie-up
CRM technology platform extends partnership with the Blackpool-based independent travel agency group
CRM platform developer TProfile has supported independent travel agency The Travel Village Group to launch a new river cruise website and customer experience tools.
The extended partnership with the Blackpool-based retailer will see it focus on increasing group revenues across all business channels.
Its TProfile website, RiverCruising.co.uk is fully integrated with the technology developer's CRM [Customer Relationship Management] applications and automation tech.
The Travel Village customers will be able to access services such as maps, pricing, and availability for its cruise operator partners around the world.
TProfile said increased speed and enhanced usability means the agent "will be able to manage every part of the customer journey and experience using a fully automated service, which creates exceptional customer quotes, combining the core itinerary with rich content and personalised messages".
Bhav Taylor, head of sales at TProfile, said: "We are continually developing our technology to ensure that we offer the best-in-class service for our users.
"Cruise tourism is increasing and RiverCruising are now well positioned to meet this new demand and explore the opportunities in this growing market. We're thrilled to help their businesses deliver a connected, and completely personalised service for their customers which will drive sales."
The extended partnership will allow future access to the customer portal and TProfile App, which will provide a further channel for connecting and engaging with customers.
John Warr, managing director of The Travel Village Group, said: "We are very excited to be launching our new river cruising website.
"This is very much one of growth strategy areas and will help us build on an already successful part of the Travel Village Group.
"The river cruise market is one of our growth strategy areas and will help us build on an already successful part of the Travel Village Group.
"Understanding our customers is a fundamental part of our service as we work to provide cruises that fit specific requirements.
"To deliver this level of service we needed a system that communicates with customers throughout their journey, ensuring that they have the best experience with us. That's why we chose TProfile."
According to a recent report from Clia (Cruise Lines International Association) river cruise passenger volumes next year are expected to exceed 2019 levels.
To meet this growing demand, RiverCruising.co.uk is adding new destinations to its range of river cruises around the world, including Egypt and Israel.