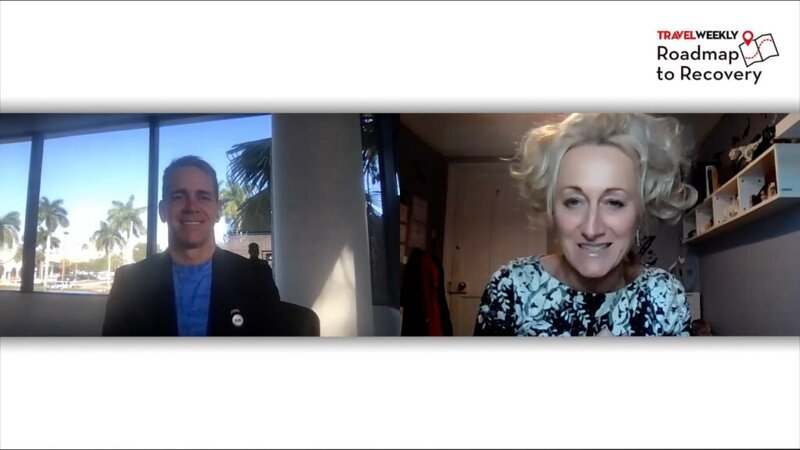 Princess Cruises looks to touchless technology to support its recovery
The Carnival line pioneered the operators Ocean Medallion project
The boss of Princess Cruises says the line's long-standing tech-focused strategy will aid its recovery and is benefitting from "years" spent advancing its touchless technology.
President John Padgett, previously chief experience and innovation officer at Princess parent Carnival Corporation, spearheaded the development of the line's MedallionClass technology and the enabling Ocean platform in his former role.
MedallionClass allows swifter embarkation, Wi-Fi, onboard navigation, cabin entry and for food and drinks to be ordered and delivered.
All 14 Princess ships – including "vintage" vessels such as Grand Princess, which launched in 1998 – have now been retrofitted with the brand's technology.
Padgett told a Travel Weekly webcast: "We really have what we believe is the right strategy for Princess and we're going to stick with it."
---
---
He said Princess, and other oceangoing cruise lines, all had their own "unique differentiators". Princess' point of difference is hassle-free personalised service, he said, adding: "That's what we call our MedallionClass experience that we've been cultivating now for over six years.
"The MedallionClass experience is now ubiquitous across the entire Princess fleet."
He went on to say the "small silver lining" of the pandemic has been the modernisation of the line's fleet, which has seen older ships retired.
"We're coming back with a stronger, larger, more modern fleet than ever before with the best technology enablement platform," he said.
Padgett feels "a lot less pressure" in the role of president because the technology advancements Princess has made, he explained.
"I already have what so many others are pursuing," he said. "We've been working on the concept of a personalised, truly touchless service for years."
Asked about his vision for the brand in terms of the MedallionClass experience, Padgett said: "How do we progress it? It becomes a little less about the technology, invention, installation and implementation because that's all been done.
"What it really is about now is delivering that service in that personalised way on every single interaction on every ship – all the time."
The line will still make "incremental" improvements when required, he said, noting that the technology "enhances" the crew's position and performance
Padgett added. "The MedallionClass experience is the most advanced tech in the cruise industry."
But he noted: "Guests aren't on a cruise ship to experience tech. They're there to experience great food, great entertainment, great hotel accommodation, leisure, everything they do on the cruise ship is enabled [by the technology]."
Padgett said Princess "core" is "happy guests" on board using MedallionClass technology. "If you look at the most basic metrics of satisfaction and crew interaction our scores are great. They're the highest they've ever been," he added.
"So we couldn't be more happy. We know that translates into a great product and service going forward, so we're very comfortable."