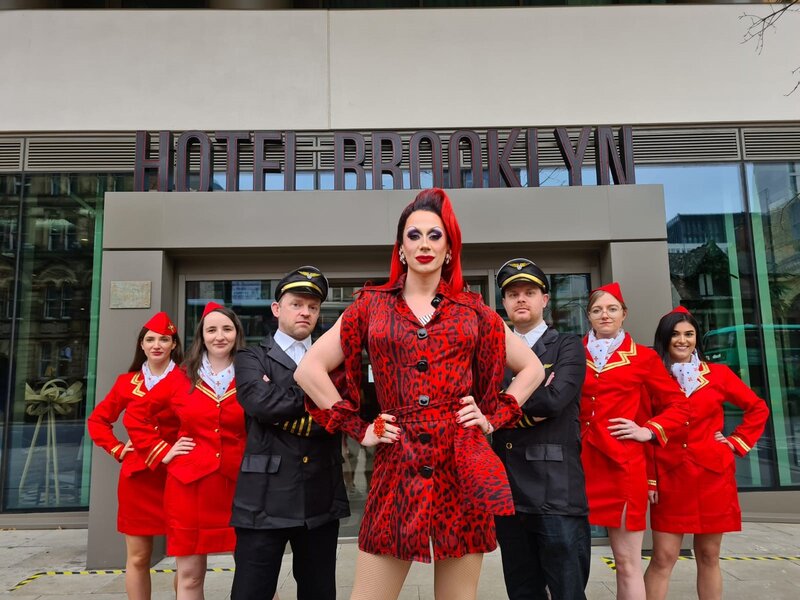 Manchester travel start-up Taptrip turns heads filming its launch 'bleisure' campaign
Firm says business travellers will have to be encouraged to 'get moving again' after the COVID pandemic
Manchester-based corporate travel start-up TapTrip got hads turning in Manchester recently with the filming of its lunch marketing campaign.
The video, that was shot in accordance with COVID rules by What Marketing focusses on the so-called 'bleisure' phenomenon of mixing business with leisure travel.
It features UK Drag Race royalty Divina De Campo enjoying various aspects of a trip including at the city's Hotel Brooklyn.
Neil Ruth, Taptrip chief operating officer, said: "The pandemic has been a real blow for the travel sector but when we got confirmation from UK culture secretary that TV and film production could continue, we knew we had to crack on with our plans to shoot the marketing campaign for Taptrip.
"I'd like to thank all those hotels and businesses including Hotel Brooklyn that allowed us to shoot safely on their premises despite lockdown.
"When it's safe to do so, business travellers are going to need to be encouraged to get moving again, to get dressed fully, not just from the neck up, and the perfect way to do this will be to stimulate their business brain with their traveller's heart, that's what our platform does. We all have a part to play in getting the travel industry moving again."
Taptrip has grown from six to 20 people in spite of the uncertainty facing the corporate travel market due to COVID-19.
It has recently raised £2.7 million from investors including Barclays, Techstars, Startup Funding Club, easyJet and ATPI.
The firm says it intuitive platform makes booking business travel as easy as using Netflix.
It has integrated with Ticketmaster, Zomato and Eventbrite among others meaning business travellers can also book events, restaurants, and networking events that match their needs all at the same time.
Taptrip said: "It's this understanding of the next generation of business travel needs, blurring business + leisure = 'bleisure' that's attracted the big investors and fuelled the start-up's rapid growth. That and its irreverent personality shared by its founders and team who also star in the video."
De Campo said: "To be honest I'm just bloody grateful for the work.  Only kidding, I've known Neil a long time and when he asked for my help I knew I needed to lend my old school glamour to the proceedings."