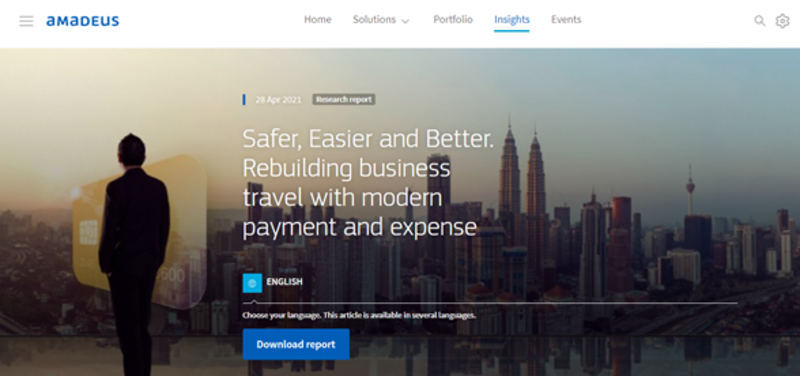 Amadeus research finds high levels of confidence about the return of business travel
Survey of 1,400 travellers found 93% reduced travel for work by average of 60% during the pandemic
The extent of the hit on business travel activity from the COVID-19 pandemic has been revealed in an Amadeus survey that pointed to cautious optimism for the future.
The study by the leading European GDS and travel technology developer, sought the views of 1,400 regular business travellers.
The research was conducted by Opinium in February among people from France, Germany, India, Japan, Spain, USA and UK who travelled more than 15 times for business during 2019.
It found 93% have reduced travel for work, by an average of 60% since the pandemic began rising to 78% for over people aged over 55).
However, 84% of respondents confirmed they would travel now if the correct safe travel measures are in place, rising to 87% for frequent flyers.
Contactless payments was ranked fourth by frequent travellers from a list of safe travel measures, higher than mandatory test or vaccination status.
Rudy Daniello, Amadeus executive vice president corporations, said: "Our findings show that travellers are eager  to travel if the right safety measures are in place, which is hugely encouraging for the business travel industry.
"Whilst vaccination will take time, there are a range of steps corporations and travel companies can take now to protect and reassure travellers."
The research also looked at business travel expense claims, fining that travellers spend 2.3 hours on average filing expense claims for each trip.
They wait an average of four weeks to be reimbursed by the company and reported they are on average $470 out of pocket annually due to lost receipts.
The study found 38% of travellers said they'd considered not taking a business trip due to delayed reimbursement.
Younger employees particularly struggle with the expense process and crave a modern digital approach
Some 79% of business travellers were happy to pay with a mobile wallet on-trip (64% for over 55's) while 81% would prefer on-trip expenses to be paid directly from the company's bank account.
And 66% of travellers said they would adhere completely to the travel policy if it meant the trip could be justified (compared to just 33% that stayed on policy in 2019).
Daniello said: "New innovations in mobile payment and expense are coming online that allow travellers to pay contactlessly using their mobile, directly from the company bank account.
"This removes the need to touch payment terminals or handle paper receipts whilst expense reporting is automated in the background.
"Travellers can also access information relating to travel restrictions, COVID-19 prevalence and hygiene factors at the point of booking.
"While it may be difficult now, technological innovations can make business travel even better than it was in 2019."
Amadeus has published a 'Safer, easier and better: Rebuilding business travel with modern payment and expense' report  on the back of the research which can be downloaded now.