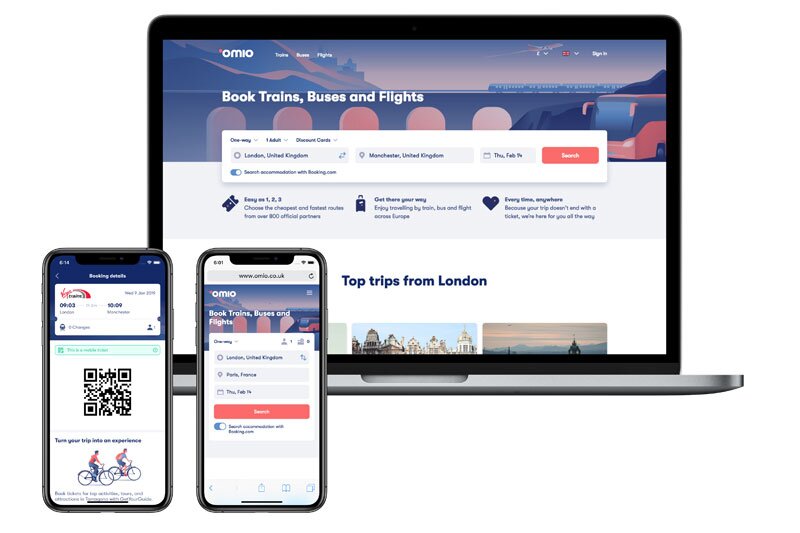 Multi-modal travel specialist GoEuro becomes Omio
New brand to support global expansion plans
GoEuro, a European search and booking platform for travel by train, bus and flight, has announced a change of name to Omio which it said will support its growth and global expansion plans.
The company, founded in Berlin in 2013, will introduce the new brand name to consumers over the coming month.
Under the Omio brand, it is planning expansion into new markets, both in terms of users and transport inventory. South America, Asia and the US are currently being considered. Additionally, Omio will deepen its presence in Europe.
The company said Omio was selected as it is "short, easy to remember and lighthearted. The two 'o's' symbolise the origin and destination of a journey and at the same time, create a subtle link to the original brand name."
Since its launch, GoEuro has "grown to become one of Europe's largest travel booking platforms, successfully bringing together huge amounts of data in the fragmented European transport network to create simple, seamless booking experiences," said the company.
Today, GoEuro, now Omio, has more than 27 million monthly users and a product available in 18 languages. According to the company, it also has the continent's most extensive inventory of mobile ticketing and raised one of Germany's biggest investment rounds in October 2018 with $150 million.
Naren Shaam, chief executive officer and founder of GoEuro, said: "In just over five years, we've grown from a metasearch engine with a presence in two countries to a booking platform and app with global reach, and fully operational in 15 countries. And the name GoEuro has served us well, supporting us in making travel easy for millions of people travelling to and within Europe.
"But our ambitions are much larger than Europe. Transport globally is not offered on a single product; we want to create this and in doing so, offer customers around the world the opportunity to travel anywhere, easily. So, I'm really excited that we're making the transition and believe that as Omio, we'll achieve even greater things.
"Our guiding belief is that travel planning in the future will be a completely different experience from today: instead of searching for stations and airports, people will search for destinations. There will be no need to queue to buy a paper ticket, and no need to buy separate tickets for each stage of the same journey. Transport will be demand-led, by consumers. And Omio will be driving that change."
At the end of 2018 GoEuro unveiled a new brand identity, to pave the way for the new name.