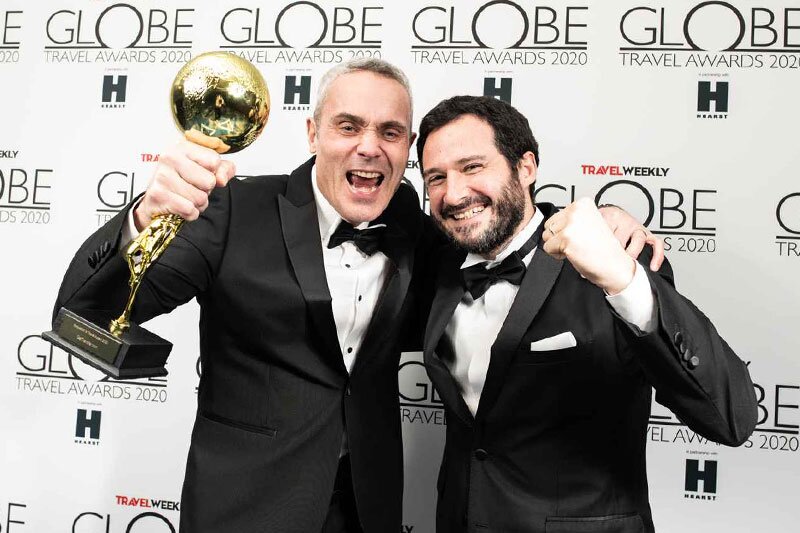 GetTransfer.com departs with Travel Weekly Globe award for innovation
#TWGlobes winner commended for 'challenging norms to enhance ancillary offerings'
Transfers start-up GetTransfer.com followed up its success at last year's Travolution Awards by scooping the Travel Weekly Globe for innovation last night.
The London-based firm was chosen by a panel of industry experts for its innovative approach to supplying airport transfers to the trade.
GetTransfer.com has developed a platform that put transfer requests out to tender encouraging operators to compete for business.
The Innovation in Travel Award was sponsored by GDS and leading travel technology supplier Travelport which commended GetTransfer.com for "challenging norms to enhance travel companies' ancillary offerings".
Arie Kravtchin, one of the three co-founders, said: "We are very, very pleased to receive the innovation award. This is what our company is all about.
"We are trying to disrupt, we are trying to make people's lives better when they are getting in and out of airports.
"We are really pleased to be recognised by someone like Travelport who is a big player in the industry and understand a lot of the pain points around transportation.
"We set up our platform to achieve significant pricing advantages for transfers around the world. Our product innovation proves we can improve the industry. We are young, dynamic and innovative."
Only four years old, GetTransfer.com has to date raised £2 million from private investors to establish its business.
The idea for GetTransfer.com came from the problems one of its founders arranging a ski transfer to Geneva airport.
"We started with ski, but realised this is a common problem everywhere around the world which we need to solve and improve."
In November GetTransfer.com won the 2019 Travolution Award for Best Technology Product.