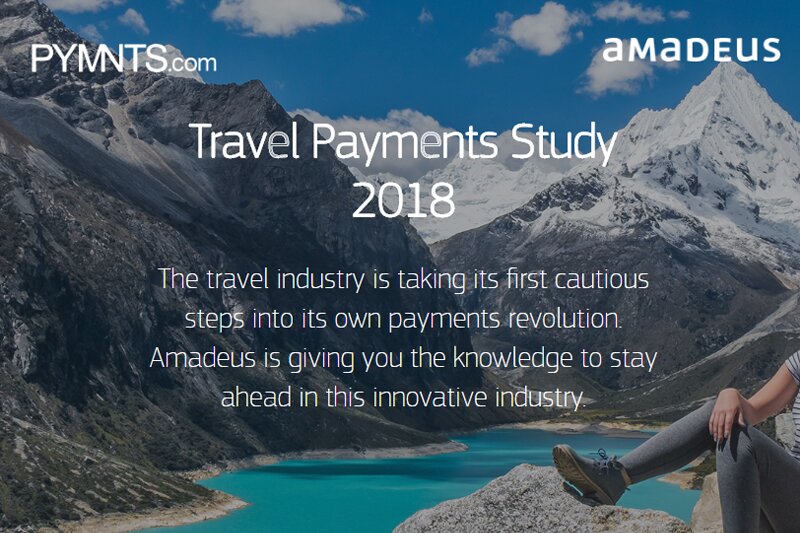 Travel firms ready for innovation in payments sector, finds Amadeus report
PYMNTS research finds growing appetite for innovation in areas like contactless payments and secure digital currencies Continue reading →
There is increasing demand in travel for innovation in the payments sector, according to a new study commissioned by Amadeus.
The research, conducted by PYMNTS, involved interview with 78 payments managers from hotels, airlines and travel intermediaries.
It found a growing appetite to innovate in areas like contactless payments, cryptographically secure digital currencies and instant payments, according to the report's authors.
The study found over 95% of interviewed companies plan to introduce new payments innovations in the near future, with over 14% planning a 'lot of new innovations'.
Factors such as meeting customer needs were cited as driving innovation, with the continued focus on delivering a more personalised customer experience an important objective.
However, travel payments managers highlighted significant complexity as a key barrier to innovation today, with 85% seeing an increase in the number of accepted payment methods over the last five years.
The average number of methods accepted by respondents was nine, with companies having added an average of three new methods over the past several years.
Similarly, the vast majority of travel companies (over 80%) work with between three and 10 different suppliers of payments services.
Bart Tompkins, managing director, payments at Amadeus, said: "The travel industry is standing at a tipping point in payments innovation.
"The next few years are a real chance for the industry to improve the customer experience and to manage costs through innovation with a host of advances in FinTech.
"Our advice to those companies looking to innovate in payments is to take a strategic approach: define what is a core competitive advantage and what should be outsourced.
"Then, when evaluating future innovations, focus only on those which improve customer experience, address complexity, or reduce direct or indirect costs."
Tompkins added: "The travel industry is more international than any other, requiring payment methods that cater to a global customer base and a host of government regulations that must be managed.
"Despite these challenges, it's clear the promise of delivering a more personalised experience is causing the industry to look again at how payments can deliver a competitive advantage."
The study also found that travel firms spend on average 5.3% of their revenue on managing payments, including acquiring fees, fees to all providers and other indirect costs.
That equates to a $74.5 billion across the industry as a whole. Smaller firms pay disproportionately high fees, with those earning under $15 million averaging 7.5% of revenue. This compares to just 3.8% for travel firms generating $1 billion plus annual revenue.
The research was conducted by information portal PYMNTS in the first half of 2018.
Telephone interviews were conducted with 78 payments managers from airlines (9), Hotels (41) and Travel intermediaries (28).
Respondents were drawn from organizations of varying size with over 60% of firms generating $100 million in annual revenue.
The research was commissioned by Amadeus Payments which processes over $117 billion in payments annually for 1,000-plus travel companies.