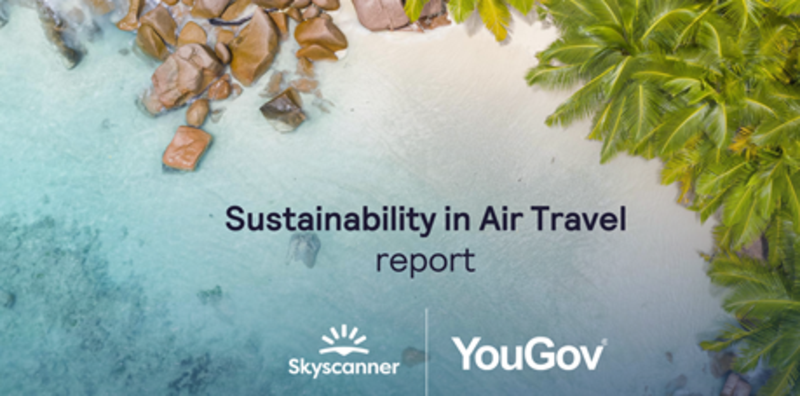 Skyscanner YouGov study tracks changing attitudes towards sustainable travel
Findings in Skyscanner Sustainability in Air Travel Report 2021 were presented at a Travolution WTM breakfast event last week
The need to make sustainable lifestyle choices is now on the mind of the vast majority of consumers across the planet, new research for Skyscanner by YouGov has revealed.
Results of the Skyscanner Sustainability in Air Travel 2021 study were revealed for the first time last week during World Travel Market as world leaders gathered in Glasgow for the COP26 climate summit.
The findings were presented to senior executives from the sector at the annual Travolution Business Breakfast event held during WTM.
The YouGov polling focussed on six key markets for air travel: The US, UK, Germany, Australia, Japan and South Korea and sought to find out if attitudes had changed during the pandemic.
A nationally representative cohort of over 1,000 people aged in each country aged over 18 were asked for their views.
---
Photo gallery: Travolution WTM Business Breakfast 2021
---
Although cost was found to still be a key deciding factor when it comes to booking travel in all markets, the study found growing awareness of and sense of personal responsibility.
In the US and UK the study found over 80% of respondents said they were making the same or more sustainable lifestyle choices now than they were 12 months ago.
The most significant move was seen in Australia where 46% said they were now making more sustainable choice.
German respondents appeared to be the least likely to have changed their views sustainability choices during the pandemic with 57% saying they were making the same choices.
The picture was different in the two Southeast Asian markets surveyed with Japanese respondents being the most likely to say they have made fewer sustainable lifestyle choices.
And in Japan a quarter of respondent said they haven't considered making sustainable lifestyle choices over the last 12 months.
Among those making more sustainable choices, most are doing so because they believe they have a responsibility for protecting the planet.
In most markets, respondents also cited the fact that it has become easier to make sustainable choices as one of the key reasons for doing so.
However there was a general feeling that there is too little information available regarding sustainability and what there is is very confusing.
When asked about making sustainable travel choices a majority of respondents agreed it was important except in Japan, where just 45% agreed that it was important.
More people said it was the travel industry's responsibility to achieve sustainable travel than individual citizens, airlines or governments and international and regional organisations.
However, opinion was divided with Brits and Australians saying the key role should be played by government, Americans and Germany the travel industry and Japanese and Koreans citizens.
The Skyscanner research also asked about more fuel-efficient aircraft, alternative modes of transport and changing demand patterns post-pandemic.
Eva Stewart, global sector head of travel and tourism at YouGov, says in the report: "Reaching net-zero greenhouse gas emissions is going to be a Herculean task.
"The global pandemic has exposed the challenges of achieving global cooperation in pursuit of a common goal, so it won't be easy for governments and the travel industry to achieve their ambitious environmental ambitions.
"But people's support for that goal is widespread. Large proportions of society across all researched countries show great awareness of sustainability and an ever-growing interest in travelling more sustainably.
"The research shows that consumers will be prepared to buy sustainable travel offers if these are made readily and easily available to them."
The full report can be downloaded for free from the Skyscanner website.