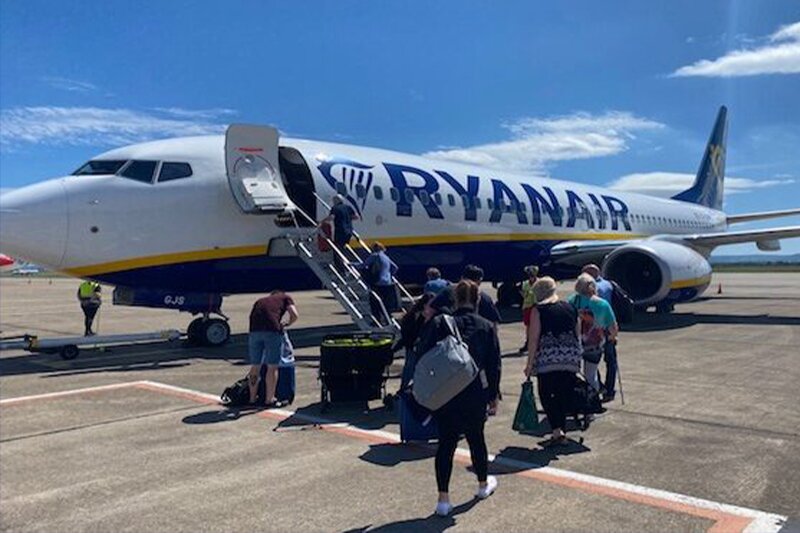 Similarweb reveals Ryanair conversions lag peers but could be set to recover
Gap to easyJet and Wizz Air could be down to increased indirect OTA bookings, says analyst
Analysis from digital intelligence firm Similarweb has revealed Europe's largest airline Ryanair has maintained its dominance but is lagging rivals for conversion rates.
Data has revealed Ryanair leads its main competitors, easyJet and Wizz Air, on most metrics, including traffic volume following a resurgence after a crash in December as Omicron hit.
However, the Irish carrier falls behind in conversions with rates on wizzair.com and easyjet.com rebounding and visitors making more purchases.
Similarweb looked at average monthly visits over the past three years finding that Ryanair has a "solid lead" over EasyJet and Wizz Air in overall site traffic.
At the start of the pandemic, all airlines saw flight demand drop sharply, with traffic for all three crashing closing the gap in share of site traffic with Ryanair.
However, the COVID-19 vaccine rollout and re-opening of travel last year Ryanair regain its lead in share of website traffic.
As of December 2021, the budget carrier's site traffic was more than double EasyJet's and almost triple Wizz Air's.
Ryanair saw web traffic decline 22% December, a month when it traditionally experiences a spike, while EasyJet and Wizz Air saw smaller declines of 7.9% and 6.3% respectively.
Similarweb says this is due to Ryanair's more leisure-focus while EasyJet and Wizz Air have more of a VFR (Visiting Friends and Relatives) customer base.
Ryanair's poorer conversion rate is attributed to this difference in customer types with the VFR sector having a stronger need or intention to travel.
However, Similarweb said while leisure-centric naturally lends itself to lower conversion, this does not fully explain the large gap Ryanair has with its peers.
"Despite Ryanair's much stronger engagement metrics, where average visit duration, page per visit and bounce rate exceed its peers by a wide margin, it's not been enough to get customers to pull the trigger and buy tickets.
"Further, it is also concerning that while all three airlines saw a drop in conversion at the start of the pandemic, both Wizz Air and EasyJet have seen strong recovery, while Ryanair's conversion rate has remained low, and it's gap between its rivals on this metric has widened over time," said the Similarweb analysis.
Similarweb also looked at data for the airline's markets to assess market share in those countries.
Data over the past six months shows a "tight battle" in the UK with Ryanair at 46.9% of site traffic, EasyJet at 42.9% and Wizz Air at 10.3%.
Ryanair dominates in its home market of Ireland with 85% of website traffic and is ahead in Italy, Germany, Poland and Portugal (68%).
Wizz Air is strong in Hungary, Ukraine, Bulgaria, Norway and Albania. EasyJet leads in Switzerland and France, and is strong in the Netherlands and Portugal.
Similarweb said: "Overall takeaways are that Ryanair is well positioned in some of the largest and strongest economies in Europe and the UK, while the other two budget airlines are stronger in relatively weaker economies where leisure travel is less of a focus.
"Once the pandemic is finally over, airlines should see a shift away from VFR towards more leisure (and business) travel, which should be a strong positive for Ryanair more so than EasyJet and Wizz Air.
"Given the drop in site traffic for Ryanair in December 2021 versus historical patterns, and given the decline in conversion percentage that did not rebound with peers, it may be possible that the December quarter could see lighter revenues and earnings versus the current consensus.
"It remains to be seen whether Similarweb site traffic and conversion estimates mean that expectations may be too aggressive."
The analysis concludes: "Ryanair remains the leader in Europe and the UK, among the budget airlines, but competition is tight.
"Both Wizz Air and EasyJet have areas of strength throughout Europe. Ryanair leads with the strongest customer engagement metrics, yet recent website traffic declines and poor conversion data are potential warning signs.
"This could suggest waning customer interest, or an increase in purchases from OTAs and other travel sites rather than directly booking with Ryanair.
"Website traffic has rebounded from early pandemic lows, but overall site traffic saw a dip in December 2021 that stands in contrast to recent historical patterns."