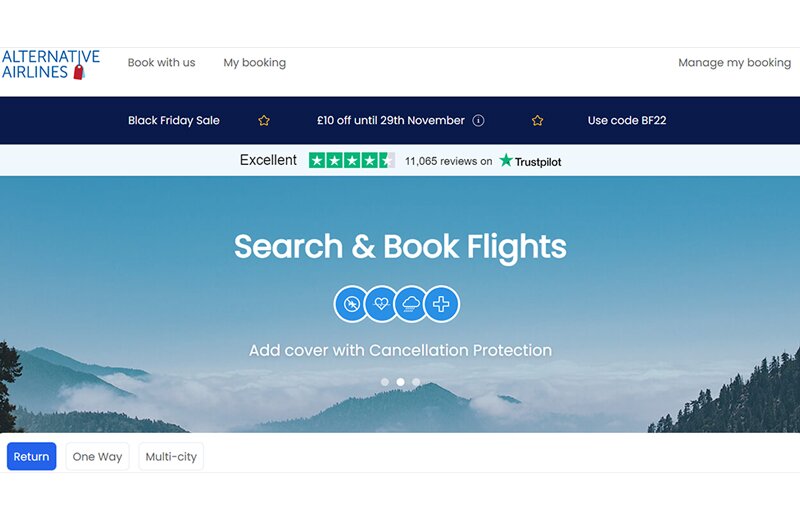 Phocuswright 2022: Alternative Airlines bullish about prospects as it eyes revenue milestone
Managing director of the British scale-up OTA Sam Argyle caught up with Travolution at last week's conference in Phoenix Arizona
UK flights OTA scale-up Alternative Airlines says it is on track to hit £100 million annual revenues within 18 months as it targets global growth.
Speaking to Travolution at Phocuswright in Phoenix Arizona last week, managing director Sam Argyle said the site's strength is its focus on selling flights.
The OTA has just reported £58 million in revenue, up from £28 million last year, and Argyle said the company, which has never taken outside funding is profitable.
"We have a single product focus and we want to be excellent at that. We know we can't do everything in travel but what we are trying to do it what we do globally."
Currently 60% of business on the Alternative Airlines site comes from customers in the US and just 10% from the UK with the remainder from other English speaking markets like Australia, Canada and South Africa.
The OTA is working with Duffel and Amadeus to develop its modern New Distribution Capability (NDC) retailing and is pioneering alternative forms of payment like Crypto and financing like Buy Now Pay Later.
The site enables payment in 70 crypto-currencies and Argyle said while this represents just 4.5% of its business today the average order value is three times that for sales using conventional payment methods. Generally Alternative Airlines tends to sell a higher proportion of premium tickets that most OTAs.
Alternative Airlines was established in 2017 by Argyle's father Paul originally to focus on niche airlines as part of his Flight Directors General Sales Agent.
Sam, a former investment banker at Rothschild & Co, said the brand has "moved a little bit more mainstream" while maintaining its focus on flights.
"The focus on flights is key. We love selling airlines. It's what we do. We want to be the best in the business in flights.
"First and foremost it's an online play and we want to make it easy to book a flight. We like to think we give people a great choice of airlines and then we focus on the financing side."
Argyle said Alternative Airlines looks to drive traffic through organic search placing a focus on long-tail keywords.
"Organic search is not sexy but it's a sustainable way to grow the business. And it's free apart from the time it takes to create the content.
"The key thing is to make sure our acquisition costs are significantly lower than our margin. We have a big focus on SEO, we don't compete on meta and we do targeted PPC [Pay Per Click].
"Social is part of our strategy, it's one of the many things we are doing. We think we have customer acquisition strategies that are different to what others are doing."
Argyle describes Alternative Airlines as being bootstrapped and says it is not looking for funding as it aims to hit is target of £100 million in revenue in 18 months.
Alternative Airlines has a team of 22 technology experts working on front end user experience and product design and builds all of its own systems in-house.
It has integrated third party tools like automated self service technology developed by Amadeus to process ticket changes but everything consumer facing is developed by the firm's own team.
"We have control," said Argyle, "we know what we are doing. Why do we have to outsource? This way we can provide really accurate, fast customer service.
Argyle said a focus on helping people fly domestically during COVID helped the firm recover from the pandemic and significant growth in geographically large markets like Australia and Canada.
"We are fairly bullish on our prospects because we have built quite a diversified business. There is no doubt there are pressures on people's spending at the moment.
"But I believe the impact of the recession will probably be less on people's travel spend than in other recessions. It has to have some impact but it will be less severe than the 2008/09 recession. People have built up savings during COVID and they want to travel still."