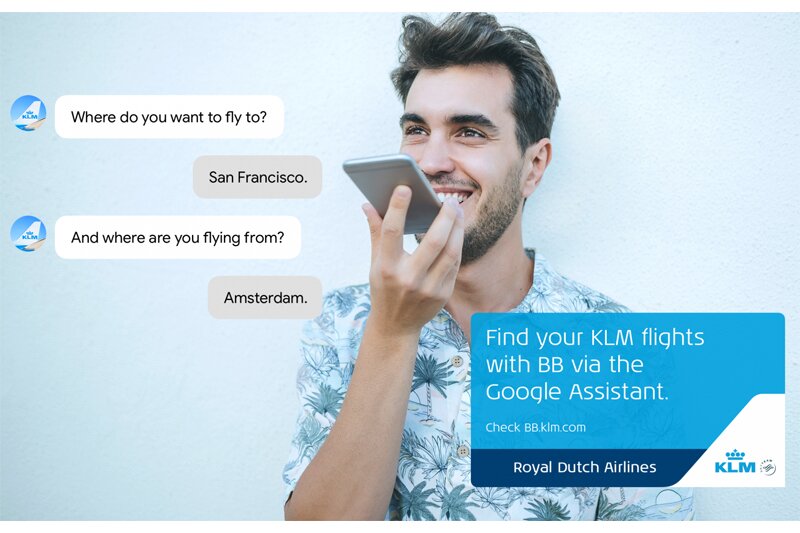 KLM claims pioneering position in voice tech with multi-language Google bot
Blue Bot helps customers find a suitable flight and sends a link to book Continue reading →
KLM has launched its latest service on the Google Assistant enabling customers to use voice commands to search for flights.
KLM says it is one of the first companies in the world to offer a service on the voice-activated platform in more than one language. It available in English and Dutch.
KLM's smart assistant BB, known as Blue Bot, helps customers find a suitable KLM flight.
Once the desired flight has been found, BB sends the customer a link which takes them straight to KLM.com where they can book the flight directly.
Pieter Groeneveld, senior vice president digital, Air France-KLM, said: "Voice control will rapidly change the world.
"Consumers are discovering and using voice applications more and more in their everyday lives.
"KLM wants to be present on the platforms where its customers are and that automatically means a platform like the Google Assistant.
"Providing the option to search for flights using voice commands in multiple languages is the next strategic step.
"In the interest of KLM's passengers and in line with our pioneering spirit, we are already looking forward to new voice applications. We aim to remain the frontrunner in online services worldwide."
KLM's Blue Bot is based on artificial intelligence, which is linked to a combination of KLM and external technologies.
BB is self-learning and has 'her' own personality: helpful, friendly, professional, and edgy, said KLM, and the more she is used the smarter and more personal she becomes.
BB was already able to assist with the booking of a ticket through Messenger (in English) and the packing of a suitcase on the Google Assistant (in English).
Now she can be used to search for a flight with the Google Assistant in both English and Dutch. More services will be added on the platform and other social media channels.
The Dutch Google Assistant will be rolled out in phases by Google in coming weeks.
The Dutch version is currently only available for the Google Assistant on smartphones and tablets.
This will later be expanded to include other mobile devices such as Google's speaker, the Google Home. The English language version has already been around for some time.