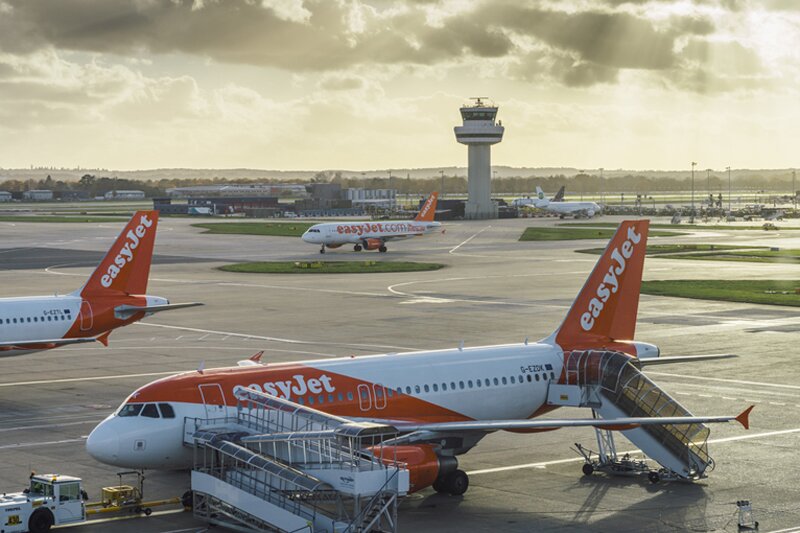 IT failure leaves thousands of easyJet customers stranded
Budget carrier faces mass compensation claims after it was forced to cancel 200 flights
EasyJet faces the prospect of mass compensation claims after an IT failure left thousands of passengers stranded yesterday.
The budget carrier issued an apology after 200 flights were cancelled and later on Thursday announced that the IT system issues has been resolved.
However, passengers due to fly on the final flights of the day were advised to check flights were operating before travelling to the airport.
The airline had said systems issues had impacted flights due to depart between 1pm and 3pm on Thursday and IT specialists had been deployed to resolve the problem "as soon as possible".
A spokeswoman said: "We apologise for the inconvenience caused and customers can apply for compensation in line with regulations."
Aviation analytics firm Cirium estimated that EasyJet was scheduled to operate 562 departures from UK airports on Thursday and that 15%, equating to 84 flights, were cancelled. Gatwick was worst affected followed by Bristol airport.
A further 11 Gatwick flights have been cancelled today (Friiday), the BBC reported.
Consumer group Which? urged affected passengers to make claims for compensation from the airline.
Which? Travel editor Rory Boland said: "Thousands of passengers are facing huge inconvenience and many will be left out of pocket by this IT failure.
"Unhelpfully, some passengers seem to have been advised by EasyJet that this disruption is out of its control and an extraordinary circumstance, but the problem appears to be its own IT system so customers are likely to be due compensation and should lodge a claim.
"The airline must also offer the option of a refund or to rebook passengers on any reasonable route as quickly as possible, using other carriers where necessary."
He added: "EasyJet passengers have faced significant disruption in recent weeks, including hundreds of cancellations, and we've heard from passengers who complain the airline is disregarding consumer rights.
"Passengers need an aviation regulator with improved powers to enforce these rights and the Civil Aviation Authority should be given the ability to issue direct fines on airlines when they play fast and loose with the rules.
"Which? remains concerned about the Department for Transport's plans to significantly water down passenger rights to compensation when their UK domestic flight is delayed or cancelled. We are urging the DfT to reconsider so that passengers get a fair deal."
The carrier is due to operate as many as 1,634 departures from UK airports, representing 288,550 seats, between today and Sunday as school half-term holidays start for many ahead of the Platinum Jubilee long weekend, according to Cirium estimates.
The highest number of scheduled departures by airlines overall since the start of the pandemic in March 2020 is expected today (Friday).
Almost 8,000 departures equating to close to 1.4 million seats are expected this weekend.
Nicola Pearce, of Star Clippers UK, tweeted that it was a "disgrace" that after three cancelled weddings, guests didn't get on their EasyJet flight from Gatwick to attend in Lake Garda because of "extraordinary circumstances".