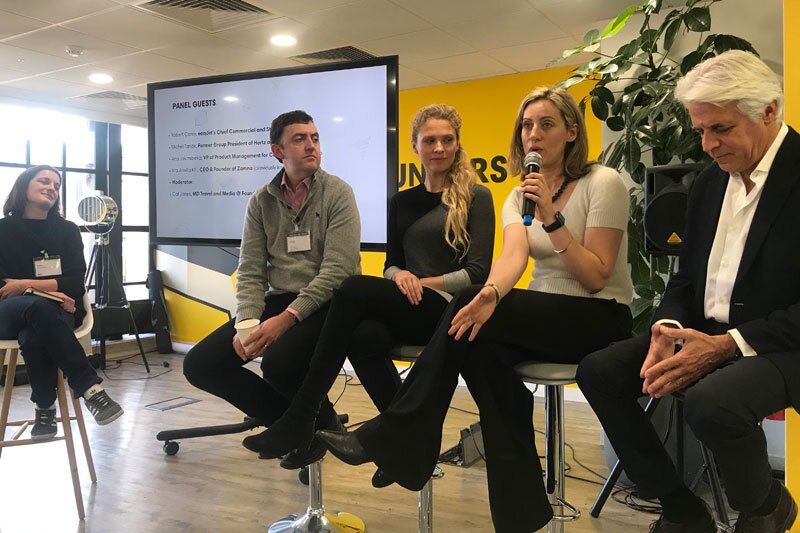 How start-ups should work with corporates in travel
Founders Factory travel event heard from four experts
Last week the Founders Factory, the start-up incubator established by lastminute.com founder Brent Hoberman, held its latest travel breakfast pitch event.
This year it featured a panel of experts with start-up and corporate experience who talked about the dos and donts of how large firms should work with start-ups. Lee Hayhurst reports what they said.
Robert Carey, easyJet chief commercial and strategy officer, said large firms can get caught up in "corporate slowness".
He said working with start-ups and the Founders Factory has been a way to approach new ideas they might not otherwise have done in partnership.
Carey said there are times when something is so fundamentally core to the corporate, like the airline's revamped holidays division which is launching this month, that it will always be done in-house.
---
More on start-ups: Travolution Start-up Summit 2019
---
But he said easyJet's work with start-ups has helped it to align its partnerships with its strategic priorities. "As we took a step back that [holidays] was something fundamentally core we wanted to execute on. Our chief executive comes from Tui. He has a pretty clear vision of where we want to go."
Carey said he has seen numerous pitches, particularly of booking engines which claim to be able to do it better than has ever seen before. "Think about what you are bringing that we have not seen from the travel space," he said.
"Some of the really interesting stuff are influencers from outside of the travel space as opposed to someone taking a slightly better version of what we have right now. When we see those pitches we say that's something we have got to do. We get really excited."
Carey added: "Thinking about the impact early on is really key. That might take different forms depending on the organisation. Every organisation is different in what they are looking for.
"Get early wins and momentum. And transparency is key, and being upfront. You are equals on a playing field. Be transparent as a start-up on what you are going to need from the corporate partner and on the corporate side be clear what resources are dedicated to this.
"And the level of corporate sponsorship is key. What we have tried to do is think through what structure we want to interact with partners, who is going to act as the day to day interaction points to make sure we nurture this in the right way otherwise it goes a little into the abyss."
Carey warned against giving responsibility of start-up partnerships to too senior a person who does not know what is going on and cannot give it the time. "When we've created a constellation of support with a point person is where we have seen the better relationships we have done."
Irra Ariella Khi, chief executive and co-founder of Zamna, formerly Vchain, said it is essential to work with corporates to "stay in the game" and that at no other point in history have global players, like BA, been so open to working with start-ups.
However she said there is a mindset problem in some start-ups.
"Start-ups often come to corporates with a sense of entitlement. The absolute opposite is true. When we started working with BA I move entirely out to Hounslow. We clocked up more a month's worth of steps around T5 in the first few days. That's something no one tells you when you start working with big organisations.
"It was up to us to make ourselves available, to put in the hours, to do the leg work to establish where the value is for them which was absolutely mission critical.
"This is on you to do the leg work. It's critical you go from 'nice to have' and 'I kind of care' to 'this is going to make us money', 'this is commercially relevant'. If you cannot do that you have not put in the hours because there is always a case of you work hard enough."
Khi added start-ups need to show the ability to bring big wins for corporates at low risk as soon as they can.
"Why would a corporate buy a platform from a start-up. When you pitch it's always the art of the possible. It allows someone in the corporate to say we can see the win in this because we can see the dollar signs, the commercial impact.
"Otherwise you are kind of just a core project no one really cares about. We find you small things you can scale quickly, we don't have to revolutionise everything. They don't need you, but they might need you to show them where they might want you.
"We have spent so long briefing the wrong people but we did not know any better. We have just started working with governments, they are even more risk averse. Our biggest learning, it's transparency but also surfacing value."
Michel Taride, a strategic advisor on travel, tourism and smart mobility and former Hertz Group president, said there is an unprecedented level of disruption in travel, and particularly in the world of mobility with the likes of Uber.
"When you are an old corporation like Hertz it forces you to see the world is changing fast and ask where is the world going to be in five to 10 years.
"Millennials are changing the world. It's true. Consumer behaviour, especially in the urban environment is different now.
"That's a very high level of disruption for a 100-year-old, legacy technology matrix organisation. It's how do you transform your core, not just to compete but to survive. That's pretty dramatic."
Taride said Hertz agreed that it needed to transform but although it had all the ingredients and knew what it needed to do to achieve that it could not do it in house because it did not have the skill set for the five or six projects it prioritised.
"You have to start with a blank sheet of paper. You cannot be stuck with your conventional wisdoms. You have to bring fresh thinking. Corporates need to have a strategy roadmap. Very often it's for the core but very often there is no other way but to work with a start-up."
Taride said start-up and corporate roadmaps need to be aligned and both sides need to have the right talent in place because they can learn from and mentor each other.
"Corporates need to be mentored by start-ups. It's an open book. We open up everything because you want to make it measurable. It's a partnership of equals
"Not many corporates get it. They do not understand what a start-up is or what entrepreneurialism is. You have to have the right people to support them."
Hertz worked with one Israeli start-up that specialised is artificial intelligence asset management platform. "It sounds horrible and non-glamorous but they solved in eight days what we could not solve in 20 years.
"At the end of the day we said what do we do now, do we buy them or partner with them. We got stuck and did not decide and now they work with someone else."
Taride added: "What we did well was we had two-way mentorships and also cross fertilised with others partners in incubators. We had regular workshops to share experiences of what does work and what does not work.
"What we did not do well enough, and actually I was pretty senior in the company and my remit was global, I did not spend enough time with my peers explaining to them what was going on.
"I would encourage corporates to communicate in the language that the corporates understand – numbers, KPIs, that's what they understand. I would do quarterly reviews. We did a lot of things well but it's not easy to get the balance between communication and speed of execution."
Ana Jakimovska, vice president of product management for content, said starts-ups have a role to play when they present a very clear value proposition for the corporate and they have the pace to build it quickly to create a "competitive edge".
And she said start-ups add value in areas where corporates do not have the skill set to come up with a very cool proposition that's easy to implement. But she warned in-house tech teams must be clearly communicated to about why the tech is not being built by them.
"Based on working in digital, there's a syndrome which is 'not invented here'. No one wants to implement someone else's code. It's boring and it's never done in the right way.
"The trouble is how to motivate those people because otherwise they will leave and the talent pool is narrow. It's really important to communicate why building it ourselves is not the smart thing to do.
"I have seen things not work out in corporates because it is not within the priorities of the business strategically. All businesses have goals we need to achieve but if they are not adjacent to core areas they do not get budget.
"Communication is key. It's better to experiment with start-ups as opposed to building it in-house. The argument that works best is this is not our core we can have much more impact if it's something we need to own. The narrative is this will free our smart people to focus on more impactful and interesting work."
Jakimovska said corporates cannot behave like start-ups and the worst thing that can happen in a big corporate is the executives go to Silicon Valley "to get completely inspired".
"Start-ups are there to almost provide a service, not to disrupt 100 or 200-year-old companies. I have seen all too many times a clear out of meetings rooms and putting up some Post-It Notes and bringing in some sofas and call ourselves a start-up.
"It's about investment on a strategic level and understanding where you want to go and how you weave your start-ups within that.
"There are cultural differences. It's a complex thing to manage. There is pace issues that need to be defined and there needs to be sponsors and buy in, not just drinking the 'kool aid'. It takes a long time and there are lots of aspects to how you set that up."