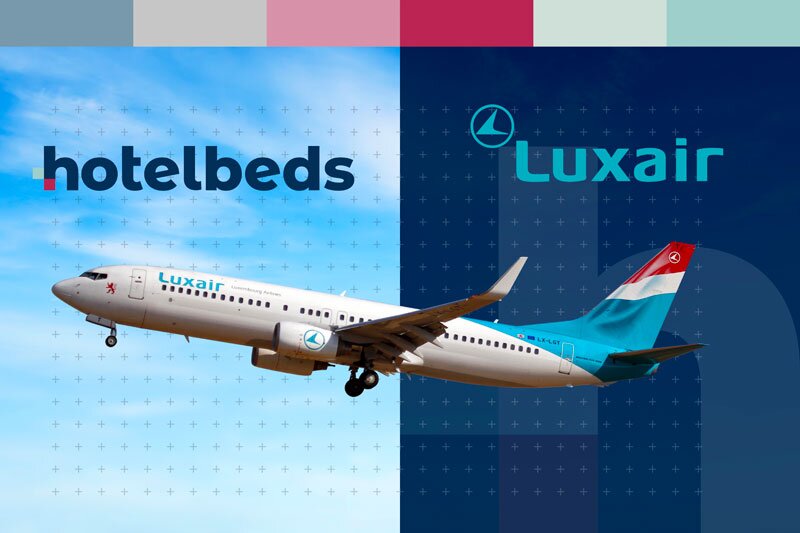 Hotelbeds agrees Luxair partnership to supply accommodation for city breaks programme
Deal gives access to more than 7,000 properties
Hotelbeds has agreed a partnership with Luxair Luxembourg Airlines to supply accommodation product for its city break programme.
The flag carrier of Luxembourg carries almost 2 million passengers every year and serves 20 European destinations.
Hotelbeds will provide access to more than 7,000 properties in those destinations and will act as merchant fulfilling services to the final Luxair customer.
To complement the Luxair City Break dynamic packaging offering, the agreement will also include a standalone hotel-only white-label platform accessible via a tab on the home page of Luxair.
Hotelbeds said Luxair will gain a wider international reach from its network of hotels in over 185 countries with over 180,000 unique hotels, 24,000 transfer routes and 18,000 activities.
Over 40 airlines already partner with Hotelbeds, which said the Luxair deal reinforces its position as an "ideal strategic partner for airlines to fulfil their non-air ancillary revenues strategy and for hoteliers to optimise their distribution".
Jon French, head of strategic partnerships EMEA and APAC at Hotelbeds, said: "Luxair prides itself upon providing maximum quality travel at affordable prices to its leisure customers, and we are absolutely delighted to partner with such a prestigious flag carrier as Luxair.
"We look forward to providing Luxair's almost 2 million annual passengers with just the kind of curated, exclusive and best-priced hotels they deserve as well as ancillary extras such as tours and activities to complete their experience – all within a seamless booking environment.
"This partnership will allow us to further develop our capabilities specifically for airlines, while reinforcing our commitment to our hotel partners of delivering a distribution route to high-value travellers that are non-domestic and typically cancel less, book further in advance, spend more in destination and come back more often. "
Laurent Jossart, executive vice-president airline at Luxair, added: "We've become the natural choice for travellers from the Greater Region who need fast access to other European locations, and creating a state of the art, fully immersive travel brand experience for our loyal customers forms part of our core strategy.
"So Hotelbeds seemed the natural partner to take this forward given both its impressive range of directly contracted hotels as well as its tours and activities inventory; additionally the important ability to deliver a cloud-based technological solution with minimal fuss played a big part.
"Moreover, by becoming part of the Hotelbeds community of airlines, we will be in a position to exchange best practices, and access new developments to continue to enhance our value proposition and adapt to the changing environment. By offering our loyal customers flexibility and choice we will now be able to increase customer satisfaction as well as lift both revenues and margins."