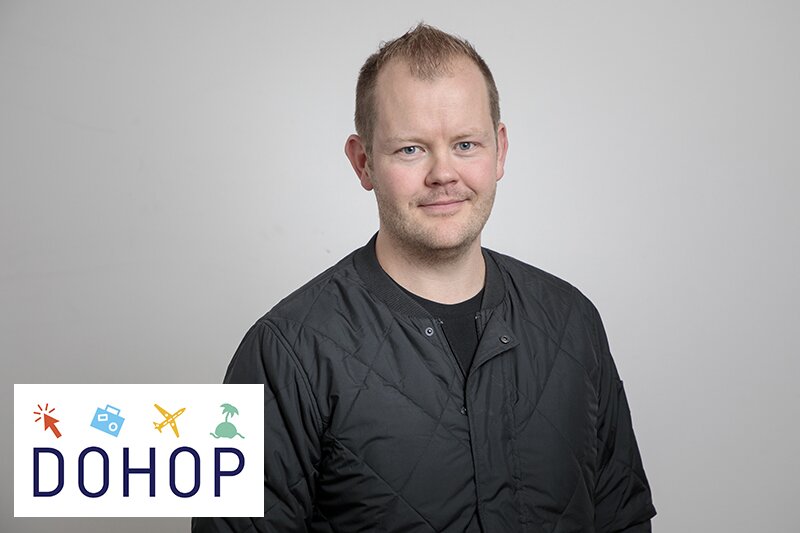 Guest Post: How airports must adapt to ensure a seamless intermodal journey
Airport connectivity is not only good for passengers, it's good for the environment, says David Gunnarsson, CEO of Dohop
Airport connectivity is not only good for passengers, it's good for the environment, says David Gunnarsson, CEO of Dohop.
I wonder how many airline passengers have ever walked to an airport? With more than 17,600 airports around the globe, I'm sure there must be some. So, those journeys aside
it's safe to say that passenger transport is in every case intermodal transport. The fact is that people change from one mode to another for practically all journeys, and airports are under pressure to develop and fund multimodal projects to connect them to road, transit, rail and other transportation systems. Total intermodal transition will be good for airports that can grow their catchment area through high-speed connections on the ground. And it's good for the environment. This includes carbon footprints from airport employees as well as passengers. According to a recent survey conducted at Heathrow (pre-Covid) over 75,000 people worked at the airport, of whom 60% drove to work alone, while 20% live within 5km. If it doesn't work for employees it most certainly won't work for fare-paying travellers.
Seamless intermodal connectivity in Europe, as well as the rest of the world, comes with many challenges, barriers and problems to overcome.  Government policies need to be addressed, and planning and airport design considered. In 2001 the European Commission identified integrated ticketing, baggage handling and continuity of journeys as priorities for passenger transport in a Transport Policy White Paper.  There is an incredible amount of coordination, cooperation, legal issues, financing, technical issues – the list goes on.
To make this work we need a European one-stop-shop intermodal travel planner with a minimum level of data provided in each country, including timetable, travel time, basic fare/charge information and "how to buy tickets" information. Companies like ours which have been in discussions with airports and have experience in linking flight connections and catering for the needs of short and long haul travellers can use that know-how to drive forward the intermodal model. Intermodal travel options must include local transport services such as trains and buses with the ability to upgrade seats, order food and more, as travellers continue onward to their destination. These options have simply not been available previously but without the added capacity provided by intermodal facilities this would not be possible and ground access forecasts at several airports have predicted not only congestion but also paralysis.
Airports play a crucial role in any connecting journey and we have been working with them to make passenger transfer as seamless as possible. Security fast-track, luggage transfer and baggage storage are just some of the areas airports need to focus on to make this work and to make the airport, as well as the airlines they serve, more competitive.
Marco Besser from Berlin Airports said "We are one of many transport infrastructures within the travel chain. Airports provide a platform to connect these different modes and types of transport to enable connectivity. At this interface, airports can contribute a lot to the success of intermodal connections. Due to the optimal infrastructural conditions at Berlin Brandenburg Airport (railway station under Terminal 1, bus station in the direct proximity) and the intensive exchange with the process partners, for example the frequency of travel schedules to the airport according to the flight plans, we were able to set up a strategically valuable transport programme and thus positively influence the travel chain. There are many other ideas for airports in the future, such as: optimising transfer times, service offers and contact persons at the airport. As a digital hub, airports can become a central transport hub in the travel chain, further strengthening intermodal connectivity."
Reducing the transit time through these intermodal terminals is key to making public transport more attractive.
The way terminals are designed and organized leads to their intensive use or not. Whilst not every terminal or airport has a railway station, most provide public transport access. What we can do is enable airports to develop their mobility proposition, working with air, rail, bus and transit partners to enable connections over their airports, and with co-operation, a more seamless experience for the customer than they have had before. By working together, we can stimulate demand in a more sustainable, technologically-enabled fashion.
Johannes Mohrmann from Berlin Airport added "The Berlin Brandenburg Airport offers an optimal infrastructure for intermodal connections. With the regional and long-distance train station directly under Terminal 1, transfers between train and plane (or between other modes of transport) can be made quickly and even regardless of the weather. In addition, there is a long-distance bus station within walking distance of Terminal 1. For Berlin Brandenburg Airport, intermodality is an important topic that will become even more important in the future."
Berlin Brandenburg Airport is one of many airports around the globe that is intensively involved with intermodality, both on arrival and departure to and from the airport, and with overall connectivity in the catchment area. Airports want to offer passengers the best choice of connections, and intermodal connections in particular should play a major role in this. Berlin Airport recently launched the self-transfer product VIA BER with the opening of BER in October 2020. VIA BER is intended to bundle all services and solutions that simplify self-transfer at BER and make it more convenient.
Placing the connections to enable the movements between them as small as possible, tariff integration and of course the ability to book the whole journey from start to finish will make it work.