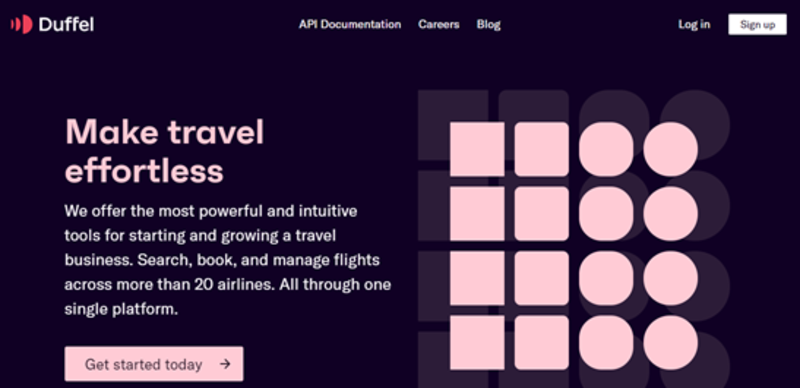 Duffel doubles down on international expansion with opening of first US office
London-based software platform aims to open up airlines sales to more retailers with developer-friendly API
London-based travel software platform Duffel has opened its first international office in New York.
The firm said the expansion to the US will "bring its API to more travel sellers in the Americas at such a tumultuous time for the industry".
Duffel has existing partnerships in north America with Air Canada, American Airlines, United Airlines and WestJet.
With the opening of its US office and hire of its first US employee, Tyler Trerotola, the firm said it is doubling down on its commitment to expand its travel software globally.
Trerotola has nearly a decade of regional operations experience having most recently worked as a senior strategist at Uber and will head up the US expansion alongside Nicholas Foo, head of business development and sales.
Steven Domin, Duffel founder and chief executive, said: "Duffel is the fastest integration for developers to build a seamless flight booking experience with access to exclusive content.
"As airlines move forward with NDC, Duffel's tools are essential in enabling sellers to access all airline content in no time and win new customers, which is even more critical while the industry is recovering from the coronavirus pandemic.
"With the launch of our New York office, and with Tyler joining the team, this is the right time to accelerate in the US.
"This new market presence will allow us to build on our customer base in the Americas, delivering more value for our current North American and Canadian airline partners, and bringing new benefits to a wider range of partners, customers and the industry as a whole."
Trerotola said: "Duffel's global office launch sends a positive message to the wider travel industry that has been hit hard by the COVID-19 pandemic: we're still very much open for business.
"In fact, a real opportunity exists in the wake of the virus for the industry to replace its previous practices with a new way of working.
"A way of working that drives innovation and cost improvements for airlines, their sellers, and their sellers' customers.
"I'm super excited to be joining Duffel at such an encouraging time for the company and I look forward to working with new airlines, agents, and travel start-ups across the Americas to help us recover from this crisis."
Duffel offer developer APIs for travel sellers to pull rich, real-time flight offers, make bookings, reserve seats and sell paid extras like checked bags.
It also enables sellers to offer exclusive content accessed through the airlines' NDC programs.
Neil Geurin, vice president of sales and distribution strategy for American Airlines, said:
"NDC technology is critical to delivering a seamless booking experience, and it has never been more important than now to drive demand recovery for travel.
"The pandemic has underscored the industry's need to modernize the travel ecosystem, and Duffel has been a wonderful partner of ours on our NDC journey."
Duffel has been onboarding new retail partners in the Americas this year, including a number of start-ups, like Milla Travel in Chile looking for cost-effective access to traditional airline flight distribution providers.
Antonia San Martin, chief executive and co-founder of Milla Travel, said: "Duffel was the best partner to take our business to market quickly and effectively.
"We integrated in less than a week and with a single developer, getting us immediate access to the best airline inventory possible.
"Since then, they have partnered with new airlines key to our market and launched incredible features that allowed us to grow and improve our product," said
Last year Duffel raised $51.5 million from investors, including premier venture capital firms Benchmark, Blossom Capital and Index Ventures, to continue these ambitious expansion plans.